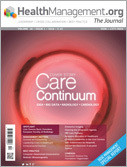 Download PDF

PRINT OPTIMISED
Editorial
Care Continuum, Management Matters
The care continuum is well upon us and has become a rapidly evolving concept as the medical profession tries to move forward while keeping abreast of developments in and around the health sector Radiology's role in the care continuum is a matter I have witnessed and personally dealt with during my experiences at Hospital Clinic Barcelona when piloting the ESR iGuide imaging referral guidelines. In an aca...
Editorial Board Members
Editor-In-Chief Prof. Lluís Donoso Bach Hospital Clinic – University Of Barcelona, Spain Honorary Board Member Prof. Iain Mccall UK (Retired) Editorial Board Members Prof. Stephen Baker Rutgers New Jersey Medical School, U.S. Prof. Hans Blickman University Of Rochester Medical Center, U.S. Prof. Georg Bongartz University Of Basel, Switzerland Prof. Davide Caramella University Of Pisa, Italy...
Spotlight
European Radiology, Lluís Donoso, European Society of Radiology, ESR, President of ESR
As HealthManagement.org The Journal's imaging Editor-in-Chief, Professor Lluís Donoso, comes to the end of his term as president of the European Society of Radiology (ESR), we took the opportunity to speak to him about developments at the ESR, the state of radiology, and the role of management and leadership. How have you enjoyed your term as President of the ESR? I was quite sure that it was going to...
Big Drama of Big Data! Recent Hospital Virus Attacks Trigger Call to Redefine IT Security
Recent Hospital Virus Attacks Trigger Call to Redefine IT Security Recent cases of cyber-attacks, intentionally breaching the security infrastructures of hospitals around the globe, have raised serious questions about how to tackle such malicious invasions. no matter if it was for financial gain or the simple thrill of having broken through the iron-clad firewalls set up by it giants.The European associatio...
Cardiology, Radiology, Healthcare IT
Every week HealthManagement.org publishes top healthcare management, leadership and best practice news of the week in dedicated newsletters. We know you're busy, so we do all the work and pick the best three stories to send you. Read on for a variety of topics that piqued record interest recently and pick up pointers for running your team, department, planning a project or just keeping that keyboard clean...
Management Matrix
Success Isn't Everything, Dale Carnegie, self-help
Over the past few months I have discussed my book, Red Pill, with a range of colleagues and shown chapters to a few. As the book points out some of the flaws in conventional thinking, they normally come back to me with the same question. "What does work then?" This has caused me to think deeply about what their question actually means. It has also highlighted to me what an important question it is to...
Healthcare Leadership Crisis: the Canadian Solution, management, LEADS
Healthcare, a Changing Landscape Equal access to a quality healthcare system is part of the Canadian Charter of Rights and Freedoms (1982), and is considered as a right by Canadians. Making Canadians the healthiest people in the world as well as preserving a healthcare system that is true to their values and sustainable must be the system's overriding objective (Royal Commission on the Future of Health...
Entrepreneurial Doctors, doctorpreneurs, mobile app, video record
They say that necessity is the mother of invention and nowhere is this truer than in the trend for medical professionals turned entrepreneurs in the aim to present a workable solution to obstacles they encounter in their practices. Medical entrepreneurship, particularly in the IT field, is widely supported by both peer groups, government agencies and hospital innovation departments as the race to exploit...
Teams in Healthcare Infographic
Download Teams in Healthcare infographic by using the link at the end of the page....
Point-of-View
The Affidea Effect: A Global Dose Data Management System, Waypoint, diagnostic imaging, dose watch, dose management, CT scan, GE Healthcare, radiology, Rowland Illing, Katia Katsari
As the biggest independent provider of advanced diagnostic imaging services in Europe, Affidea owns and operates 170 medical centres and grows at a rate of (on average) one new centre every fortnight. As the company evolves, our owners Waypoint Capital want to turn it into the biggest global brand for diagnostic imaging and cancer care. The cornerstone of doing this is to introduce practices that are st...
Compass
Stockholm Science City Foundation, Hagastaden, life science, research, biotech, Karolinska, AstraZeneca,
Stockholm is cranking up the volume when it comes to life science opportunities. For healthcare, for the life science industry and for researchers. But most importantly – for you and me as future or current care recipients. The city is currently in the process of transforming a former railway depot into a flourishing life science arena. The area is strategically located in the city of Stockholm within w...