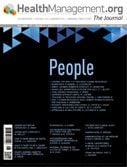 Download PDF

Landscape
Download PDF

Portrait
Editorial
Despite that in general health spending is growing slowly, according to a recent OECD report European countries lag behind. Balancing the service demands against available resources is a key function of management. With increasing demand and reduction in resources it is meanwhile a real challenge for most of our European health colleagues to fill vacancies in order to maintain quality of care and...
Spotlight
Meet pioneering gynaecardiologist Angela Maas, who explains why there's still a lot to do when it comes to cardiovascular disease in women.   Cardiovascular disease in women is an enduring passion for cardiologist Angela Maas, who has been a pioneer in Europe in this field. Prof. Maas started an outpatient cardiology clinic for women in 2003 and founded the Heart for Women Research Fund...
Management Matters
The Irish military on embracing leadership that promotes diversity, inclusion and reflection.   We live in a time of extraordinary change and complexity. This impacts on individuals, as well as the communities, organisations and institutions to which they belong. In examining the interlinkages between values, complexity, innovation and diversity, this reflection looks at the implications...
What it Takes to be a Leader in the Digital Age In a world of fierce competition, digital projects have become an omnipresent challenge. While 75% of all businesses will be digital businesses or preparing to become one by 2020, software will disrupt virtually all traditional industries. In the face of a global economy that is in a state of flux, instability has become the new norm. The change...
Compass
Trump gives in to pharma, No price controls! President Trump can do serious damage to the pharmaceutical price gougers if he wants to, and will be cheered on by everyone who is not on the payroll of the pharmaceutical industry, and even some of them as well. A suitably aggressive beginning would be to select the 10 most outrageous incidences of excessive pricing … go after the worst offenders...
I-I-I BLOG
Professor of Women's Cardiac Health Department of Cardiology - Radboud University Medical Center Nijm egen, the Netherlands  Never give up. What is your top management tip? Don't forget your personal life, because although ambition is important there is always a personal life behind. What I know from my own past is that if you get more...
Head of Section for Surgical Pathophysiology - Rigshospitalet Copenhagen, Denmark   If you don't have data, you cannot manage it.   What would you single out as a career highlight? Probably the publication in the Lancet, in 1995 about 8 patients. That was the big eye opener for people. It was not high science, because it was only a few patients, but we showed
Global Head of Human Resources – Siemens Healthineers Be passionate about what you stand for and humble in leading people. What would you single out as a career highlight? Besides the opportunity to contribute to the mission and development of Siemens Healthineers I am grateful for having worked as a hospital janitor at age 15 because it taught me respect...
Independent Cyber-physical Security Researcher Anyone who thinks robots will take over from humans has not met humans. What would you single out as a career highlight? Achieving my PhD degree and having the opportunity, for the first time, to be present at a premiere of one of my compositions in July 2017 at the London South Bank Centre.