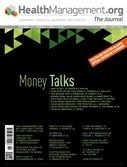 Download PDF

PRINT OPTIMISED
Download PDF

SCREEN OPTIMISED
Editorial
Costs, Costs, Costs! Who Pays in Healthcare?
The nuances of the English language give "pay" and "cost" many meanings. When a person has no health insurance and no access to healthcare, what is the cost to their health? When the state pays for healthcare, when is "rationing" considered acceptable? Should non-smokers pay with their taxes to treat smokers' illnesses? The ethics of healthcare financing are considerable. When we contemplate
Spotlight
Ann Marie O'Grady: Healthmanagement.Org Exec Editor-In-Chief, Leopardstown Park Hospital
Meet HealthManagement.org's new E-i-C for EXEC and find out what she hopes to bring to readers including providing a platform for healthcare executives to promote, share and learn from each other on emerging issues in the sector. HealthManagement.org is pleased to introduce the new Editor-in-Chief for EXEC, Ann Marie O'Grady. O'Grady is Chief Executive of Leopardstown Park Hospital, Dublin, a special
Management Matters
leadership
There is a pressing need for intelligent leaders who are able to deal effectively with today's challenges and demands—and those of the future. But intelligence alone is not sufficient. It is simply a "blunt" tool that enables leaders to get things done. Too often leaders are intelligence giants but maturity dwarfs. This has far reaching, detrimental consequences. Leadership maturity is a l
Point-of-View
Artificial Intelligence,Agfa Health,HIT ,Value Based Healthcare,VBHC
Value Based Healthcare and HIT It has been more than 10 years since Michael E. Porter and Elizabeth Teisberg published their seminal book Redefining Health Care, which laid down the foundation for the revolutionary and evolutionary concept of Value Based Healthcare (VBHC). Both starting and ending with the patient experience, VBHC has since become a driving force in the economic, clinical, commerci
Cover Story
Finance, Hospitals, Belgium, Patients, Engagement
Alternative financing at hospital level can make a difference. In an environment of budget cuts and increasing pressure on healthcare services how does your hospital cope? In Belgium, and also I think globally, governments and other payers will not be able to keep up with expensive needs, such as an ageing population, personalised medicine, new anti-cancer drugs etc. There are various possible answers.
Finance, Healthcare, Social care, England, Commissioning
How can health and social care commissioners in England reinvent the tools of their trade to make funds go further? In England, health and social care commissioners compelled to save money often feel little choice but to reach directly for frontline services. Their various attempts to do so are charted by hostile reports of restrictions on in vitro fertilisation, rationing of hip and knee operations, and
healthcare, finance, Abrar Mir, Quadria, developing world, insurers
A win-win for the simultaneous involvement of both public and private funding in the provision of global healthcare. In a casual suburb of Hyderabad, India, a growing family is struggling to cope with the main breadwinners' gastrointestinal disorder. Help arrives from a new concept of day care where major endoscopic surgical procedures can be done without need for hospitalisation. In Ho Chi Minh,
HIT, CIO, CFO, Projects, financing, healthcare
The relationship between finance and IT can be a delicate one that varies from hospital facility to hospital facility. We have entered a time where traditional IT cycles have shortened dramatically. The situation is even made more complex by a fast-changing landscape, consolidation of the market on one side and emerging technologies and swiftly-growing startups on the other. HealthManagement.org spoke t
Denmark Health, Telehealth, Hans Erik Henriksen, Cost savings, Better Outcomes
Since its introduction into the Danish healthcare landscape, telehealth has shown that it can lead to better outcomes and reduced costs. Hans Erik Henriksen, of Healthcare Denmark, writes about the difference telehealth has made to the senior population in recent years. Over recent years, Denmark has conducted a number of telehealth pilot projects, which has given them the knowledge to launch three la
finance, blockchain, HIT, Tiana Laurence, Factom, Gates Foundation
Tech outfit Factom has just won a Gates Foundation grant to develop Blockchain use in healthcare security. The company speaks about its potential. Blockchain, the Bitcoin technology, has been taking the Healthcare Information Technology (HIT) world by storm because of its capabilities to offer impregnable security and tackle the hacking threat. As part of its ongoing humanitarian efforts, The Bill
Fraud in Healthcare: A Worldwide Concern
The Global Health Care Anti-fraud Network (GHCAN) promotes partnerships and communications between international organisations in order to reduce and eliminate healthcare fraud around the world. HealthManagement spoke to representatives, Simon Peck (UK), and Leigh McKenna (USA) to find out more. What is the range and scope of healthcare fraud? Common healthcare fraud schemes include: Upcoding: bill
Money, Finance, CFO, GDP, Healthcare
Special Edition on e-Learning
Continuous Education,Healthcare, Siemens Healthineers, e-Learning,PEP connect
Offering healthcare professionals high-quality continuous education means leveraging excellence in healthcare performance. The healthcare industry is demonstrating high growth rates in both developing and developed regions around the world. The Bureau of Labor Statistics (BLS) projects that the healthcare and social assistance sector will grow at an annual rate of 2.6% between 2012 and 2022, adding fiv
Compass
Trump on Drugs: Part 1
A hundred days into the Trump administration, don't expect the vaunted changes to drug prices after the corporate execs get to Trump. After being caught up during the campaign by the media fetish over shameful drug price hikes, President Trump promised to lower drug prices. Given deep public outrage directed at high drug prices, this price lowering would be quite popular with his base, as well as all o
I-I-I Blogs
Thanh Tran, Blog
CEO , Zoeticx, San Jose, USA The buck stops here Management Tip: Treat people with respect, build trust, demonstrate caring, exude integrity, display dependability and character. Read Thanh Tran's blog on Can A Health Collaboration Ecosystem Lead To Patient Homeostasis? at https://iii.hm/9pk
Peter Kapitein, Blog, Management tip
Patient Advocate, Inspire2Live, Amsterdam, the Netherlands If about us, not without us Healthcare exists because we patients exist and therefore we should not only be asked about what we want, we should also decide about all matters in healthcare. Simply for the sake of the patients and their loved ones and for the sake of lower costs in healthcare. I'm convinced and have done resea
Ignacio Martinez Soriano, Blog, Career
Data Scientist, Hospital UNI VERSITARIO Rafael Méndez, Lorca, Spain Data is here so search for its insights. Don't focus on the problem, look for the solution. To do this we need to have a hackers' spirit and the pride to overcome challenges Career Highlight: When I went from Management Chief of IT to being a data scientist and discovered the power of the data and machine learning. Read
Beth Boynton , Blog, Management tip
Confident Voices in Health Care Boston, USA Medical improv is an exciting teaching tool that can be used to promote emotional intelligence, communication, teamwork, and leadership skills in healthcare professionals Management Tip: If you want to build assertiveness in staff, ask them what they need to accomplish a goal or contribute to an organisational initiative. Then listen and validate! Read