ESICM LIVES 2017-30th European Society of Intensive Care Medicine Annual Congress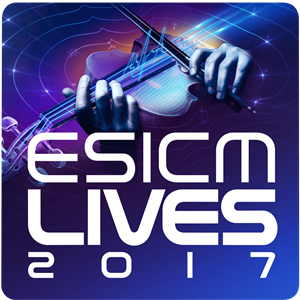 Symposia
Optimizing patient-ventilator synchronization
Date: Tuesday, 26.9.2017, 12:30 - 14:00 h
Room: Glasgow, Level -2
Chair: Dr. Lluís Blanch Torra, Prof. Giacomo Bellani
The clinical relevance of patient-ventilator synchrony
Lluís Blanch Torra Barcelona, Spain
How to recognize asynchronies at the bedside
Jean-Michel Arnal Toulon, France
IntelliSync+ for waveform-guided synchronization
Dr. Francesco Mojoli Pavia, Italy
Workshops
Organiser
Sponsor
Abstract submission system is open! To submit your abstract, please click here.
DEADLINE: The abstract submission system will close on 14 April 2017, 23:59 CET. This abstract receipt deadline will remain firm and any abstracts received after the deadline will not be accepted.
Abstract submitters will receive an e-mail confirmation immediately after submitting their abstract. If you do not receive this e-mail, please contact the [email protected].
The Congress Committee of LIVES 2017, the 30th Annual Congress of the European Society of Intensive Care Medicine welcomes the submission of abstracts of original contribution to the field.
Registration Information will be Available Soon...
ICU Management & Practice will be exhibiting at the annual ESICM LIVES 2017 event.
Collect the latest edition of the Journal during the conference.
We will feature a cover story on Recovery.
Take part in our I-I-I Video challenge.
Come and meet us at stand 133.
Invitation to the WSD Supporter Meeting on September 26th at ESICM in Vienna
The GSA will hold its next WSD Supporter Meeting on September 26th at the ESICM Congress in Vienna, Austria. Main topics will be a summary of this year's main GSA activities, the World Health Assembly Sepsis Resolution and how to make the most of it, as well as a look back on the 6th World Sepsis Day and the WSC Spotlight: Maternal and Neonatal Sepsis, our joint free online congress with the WHO.
Tuesday, September 26th
12:15 to 02:15 pm (lunch break of ESICM)
Room Number/Name to be announced
Snacks will be provided
Preliminary Agenda is available here
Participation is free of charge and open to everyone. If you want to attend, please write us a short email.
The European Society of Intensive Care Medicine is an association of individual persons. Founded in March 1982 in Geneva, Switzerland, ESICM is a non-profit making international association. ESICM supports and promotes the advancement of knowledge in intensive care medicine, in particular the promotion of the highest standards of multidisciplinary care of critically ill patients and their families through education, research and professional development.
Masimo - Stand: #511

Symposuim


Caring for the Critically Ill Patient: Novel Strategies to Optimize Oxygenation and Oxygen Delivery (DO2)
Date: Monday, 25.09.2017, 12:30 – 14:00
Room: Glasgow
Chair: Azriel Perel, Tel Aviv, Israel
The Role of Noninvasive Assessment of Fluid Responsiveness: New Frontiers - Jean-Louis Teboul, Kremlin-Bicetre, France
Oxygen Delivery in Acutely Ill Patients: How Much, When & Where Does It Go - Luciano Gattinoni, Milan, Italy
The Importance of Individualized Oxygen Therapy: Harmful Effects of Hyperoxia in Postcardiac Arrest, Sepsis, Traumatic Brain Injury, or Stroke - Jean-Louis Vincent, Brussels, Belgium
Obese Patients and Reduced Pulmonary Reserve: Challenges & Insights: Improving Patient Safety - Daniel A. Reuter, Hamburg, Germany
Iatrogenic Hemodilution: A Possible Cause for Avoidable Blood Transfusions? - Azriel Perel, Tel Aviv, Israel
Lunch will be provided
To register,
click here
___________________________________________________________________________


Symposium


How to enhance clinical decision support in the ICU?
Date: Monday, 25.09.2017, 12:30 – 14:00
Room: Amsterdam
Chairs:
Diederik Gommers, Rotterdam, Netherlands;
Antoine Vieillard-Baron, Boulogne, France
12:30 – 12:35 Introduction
12:35 – 12:55 Impact of user interface design on patient safety - Erwan L'Her, Brest, France
12:55 – 13:15 Ultrasound-guided assessment of mechanical ventilation - Francesco Mojoli, Pavia, Italy
13:15 – 13:35 Transforming hemodynamic management in the critically ill? Ultrasound! - Mervyn Singer, London, United Kingdom
13:35 –13:55 From clinical decision to predictive analytics in the ICU -
Jean-Daniel Chiche, Paris, France
13:55 –14:00 Conclusion
For more info
click here
.
GE Shock Diagnosis Challenge


Participate to GE's challenge on shock diagnosis
Location: GE Booth # 704
Come and see how the auto tools of the new Venue ultrasound system can change your shock diagnosis.
Ultrasound is useful in helping you identify the cause of shock. GE's new Venue system simplifies complicated steps.
Challenge yourself and obtain 3 key measurements as fast as possible with our unique shock toolkit!
For more info
click here
.
Brilliant ICU: Launch ceremony!
Monday Sept 25th - 16:30 – 17:30
Tuesday Sept 26th -16:30 – 17:30
Location: GE Booth # 704
CentricityTM High Acuity Critical Care
The new IT Generation for ICU is Live, NOW!
Meet with GE to discuss over some refreshments how to connect intelligence with care in your ICU.
DISCOVER your ICU needs at a glance to better manage your resources and priorities
OPTIMISE your daily ICU routine to focus on the essential
IMPROVE patient care consistency and safety with evidence-based medicineFor more info
click here
.
New efficient alarm management solution
Location: GE Booth # 704

Discover Digistat® Patient Watch - Patient bedside at your fingertips!
See how GE's innovation can help you minimize alarm fatigue, improve your staff efficiency and increase patient
*Digistat Patient Watch is a product from ASCOM company
For more info
click here
.
___________________________________________________________________________

Medtronic Simulation Center


PROGRAM
How to recognise & intervene on patient-ventilation asynchonies
Extracorporeal therapies in the ICU
SESSION TIMES
Monday, 25th - 14:15 - 15:15
Tuesday, 26th - 11:45 - 12:45; 16:45 - 17:45
Wednesday, 27th - 11:45 - 12:45
REGISTRATION
Please register at Simulation Center with one of Medtronic Representatives
LOCATION
The Simulation Center is located at Main Entrance of congress venue
___________________________________________________________________________


Symposium
A new approach to hypotension?
Date: Tuesday, 26.09.2017, 12:30 – 14:00
Room: Barcelona
Chairs:
Ivor Douglas, Denver, United States
Michael Pinsky, Pittsburgh, United States
12:30 – 12:35 Introduction
12:35 –12:55 Why are dynamic measures important today? - Jean-Louis Vincent, Brussels, Belgium
12:55 – 13:15 The physiology of the passive leg raising – What is it and why does it work? - Michael Pinsky, Pittsburgh, United States
13:15 –13:35 Management of fluid therapy: Lessons learned from the OR - Maurizio Cecconi, London, United Kingdom
13:35 –13:55 Assessing fluid responsiveness with non-invasive methods in the ICU - Ivor Douglas, Denver, United States
13:55 – 14:00 Conclusion
For registration
click here
Passive Leg Raising sessions


Performed with Pr. Xavier Monnet, Paris Sud University Hospital
Location: Cheetah Medical Booth, #404
Dates:
MONDAY, 25th September - 9:30 am; 10:00 am; 10:30 am; 12:00 pm
TUESDAY, 26th September - 9:30 am; 12:00 pm
WEDNESDAY, 27th September - 9:30 am; 10:00 am; 10:30 am; 12:00 pm
Limited spaces:
Registration required
:
___________________________________________________________________________
Symposium
Novel strategies to optimize perioperative hemodynamic monitoring
Date: Tuesday, 26.09.2017, 12:30 – 14:00
Room: Berlin
Chairs:
Monty Mythen, London, United Kingdom
Thomas Scheeren, Groningen, Netherlands
12:30 –12:45 New aspects of fluid responsiveness assessment - Frederic Michard, Lausanne, Switzerland
12:45 – 13:00 Fluid therapy in the perioperative setting - Monty Mythen, London, United Kingdom
13:00 – 13:15 Why hypotension matters? - Dan Sessler, Cleveland, United States
13:15 – 13:30 Predicting hypotension in 2017: From reactive to proactive clinical decisions - Denise Veelo, Amsterdam, Netherlands
13:30 – 13:45 The role of continuous PAC in today's ICU - Jean-Louis Vincent, Brussels, Belgium
13:45 – 14:00 Questions
___________________________________________________________________________


Symposium


Personalized protective ventilation – supported by Edi – the vital sign of respiration
Date: Tuesday, 26.09.2017, 12:30 – 14:00
Room: Amsterdam
Chairs:
Leo Heunks, Neimegen, Netherlands
Claude Guérin, Lyon, France
12:30 –13:00 The role of the Edi signal for intensive care patients from admission to discharge - Laurent Brochard, Toronto, Canada
13:00 –13:30 NIV NAVA and ECCO2R in acute exacerbation of COPD – new clinical insights - Christian Karagiannidis, Cologne, Germany
13:30 – 14:00 Personalized protective ventilation for pediatrics and neonates – supported by the Edi signal - Daniele De Luca, Paris, France
___________________________________________________________________________

Association Partners
ISICEM
- Stand: #135
ESICM
- Stand: #708
ESA
- Stand: #137
—————
More events