Sepsis 2016 Paris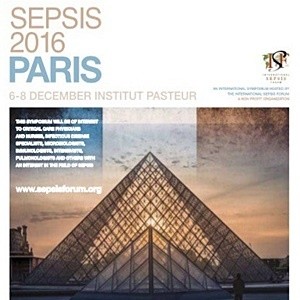 The International Sepsis Forum (ISF) is a non-profit organization, focused on improving the management of sepsis through educational efforts. A council of international experts and opinion leaders heads the ISF and drives all its activities. The ISF provides international consensus on the latest understanding of key scientific and clinical issues through its events and publications.
Exhibit
Symposia
Workshops
Organiser
Sponsor
The Sepsis Series of Symposia
The Sepsis International Symposium is a unique meeting where world experts address epidemiology, diagnosis, management, science and clinical management of sepsis. The faculty is from the fields of critical care, infectious diseases, surgery, research, etc. The Symposium will feature a mixture of lectures and discussions on key topics.
new successes new challenges
Sepsis 2016 will address the challenges facing sepsis researchers and clinicians who treat this complex illness with topics such as: raising the profile of sepsis care, optimizing antimicrobial therapy, up-date on clinical trials, new frontiers in sepsis management, how to be more precise, the new sepsis definitions, the revised SSC guidelines, how to manage shock, new perspectives on the pathogenesis of sepsis etc.
Abstract Submission
Sepsis 2016 Paris, the ISF invites all participants to submit abstracts on basic science, clinical science or management of sepsis for poster presentation. All submitted abstracts are subject to review and acceptance by the program committee. Abstracts can only be submitted through the link on the conference web page.
Publication of Abstracts
All accepted abstracts will be reviewed and may be published in the on-line journal Critical Care. This journal is available at http:// ccforum.com and abstracts will be available as searchable full text and in PDF format.
The presenting author must be registered by 1st September; if the fee has not been received by this date the abstract will not be published. Copyright: The submission of an abstract implies that all copyright is shared with Sepsis 2016 and the Critical Care journal.
Sepsis 2016 Best Abstract Awards
Sepsis 2016 will select a small number of 'best' abstracts for awards and for oral as well as poster presentation. Young Investigator Award An award for the best research form a young investigator will be given. For full details on the application please visit the ISF web site at www.sepsisforum.org
Early registration 1 June to 30 September 2016
Late registration 1 October to 30 November 2016
On site registration opens 6 December 2016
| | |
| --- | --- |
| REGISTRATION fees: TYPE PER PERSON | COST |
| Early registration 1 June to 30 September | $500 |
| Late registration 1 October to 30 November | $600 |
| On site registration from 6 to 8 December (with day of registrations) | $700 |


More events