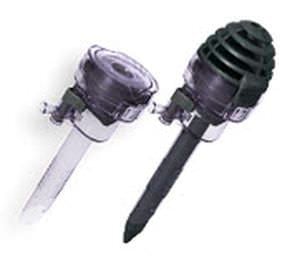 Laparoscopic trocar / with obturator / with insufflation tap / bladeless ENDOPATH® BASX™ TB series, CTB series Ethicon Endo Surgery
ENDOPATH® BASX™ TB series, CTB series
No leading bladeless trocar from Applied Medical, Covidien, or Taut™ has a lower insertion force than ENDOPATH BASX Bladeless Trocars* Seal durability: Maintains insufflation while accommodating a wide range of instrument sizes. No reducer caps needed Abdominal wall retention: Integrated thread design minimizes trocar slip-outs. 5mm ENDOPATH BASX Trocars have the same retention force as leading Applied Medical trocars with threaded sleeves † No leading Applied Medical 12mm bladeless trocar has higher retention force than ENDOPATH BASX 12mm Bladeless Trocars ‡ Secure valve closure: Recessed stopcock valve mitigates inadvertment opening/closing of valve during surgery. For ancillary ports Available in 5, 11, and 12mm bladeless and universal sleeve trocars.
Trocar type:laparoscopic
Options:with insufflation tap, with obturator
Blade characteristics:bladeless
---