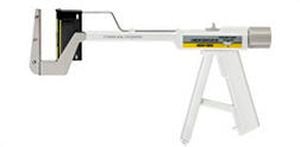 Linear stapler / surgical PROXIMATE® TL series, TR series Ethicon Endo Surgery
PROXIMATE® TL series, TR series
The PROXIMATEA Reloadable Linear Stapler is easy to use, combining controlled compression with an adjustable staple height. Designed for tissue management, the device is easy to position and fire, and various tissue thicknesses can be accommodated due to the adjustable staple height. There are three different reloads in this adaptable PROXIMATEA Reloadable Linear Stapler device which accommodate a range of tissue thickness. The longest staple length leg available is in the heavy-wire model. A consistent staple formation is achieved by way of a parallel jaw closure. The approximation of tissue through this parallel jaw closure ensures the ideal tissue compression is reached.
Type:linear
Application:surgical
---