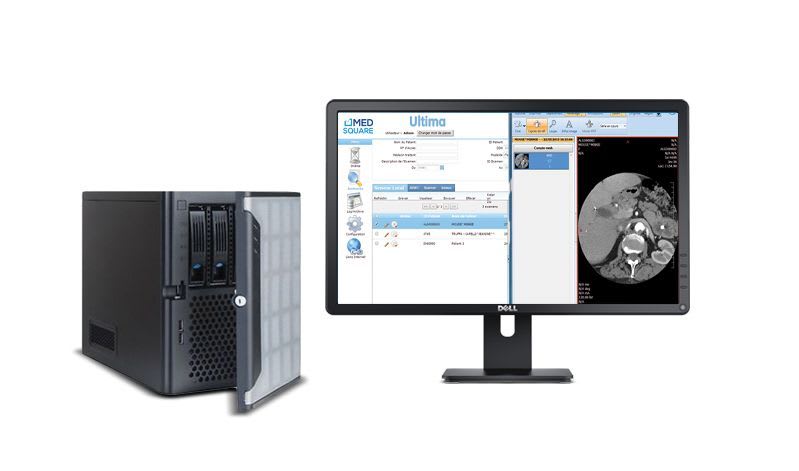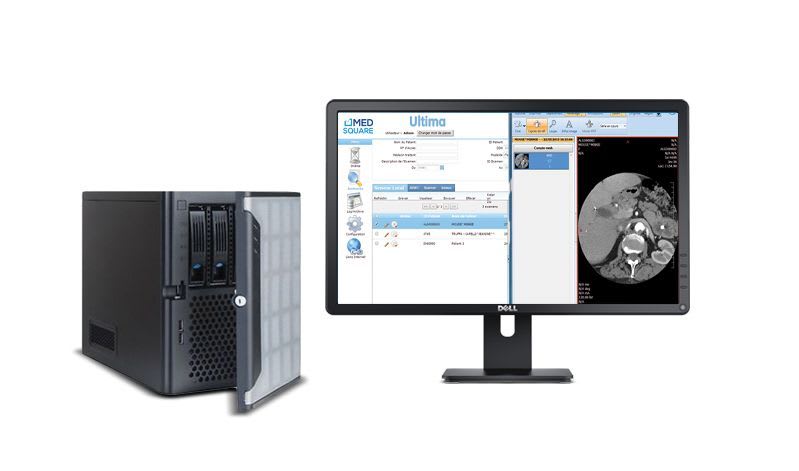 Ultima Terabox Light
Compact and efficient archiving
Ultima Terabox Light assures secure archiving of your data and images for short- and medium-term durations. Thanks to its web portal, the product distributes images and clinical reports within your institution or from a distant location. The RAID 5 technology guarantees high security for your archive and allows hot swap of defective hard drives while staying online.
Features
ARCHIVING
Fast and secure archiving, multi-criteria search
Real-time DICOM accessibility
Storage management in time (compression)
Archiving of raw images and reformatted images with annotations
COMMUNICATION WITH DICOM ENTITIES
Multi-manufacturers, multi-modalities (unlimited connections)
Complete communication methods (send, receive, retrieve)
Automatic routing to multiple destinations according to rules based on DICOM fields
HIS/RIS COMMUNICATION
Patient information update (A08)
Patient/exam data fusion and reconciliation (A40)
Medical Reports Integration (R01)
VIEWER
Complete set of measurements & annotations / advanced comparative mode & MPR
Web Viewer, unlimited & simultaneous remote connection
VIRTUAL MEDIA
Cloud sharing of DICOM studies in 1 click
Studies, DICOM viewer & clinical report are selected and automatically packaged
An e-mail including the link and the password is automatically sent to one or more destinations
The e-mail template is completely customizable and includes instructions
The expiration date of the stored studies is configurable
Data are encrypted (AES 256) and totally secured (SSL protocol)
The storage space is certified SSAE16/SOC1, SOC2, ISAE 3402
INTERFACE
Ergonomic, user-friendly and multifunctional
Web architecture, unlimited simultaneous connections from all PCs in your institution
Advanced & completely configurable user accounts and administration rights
Complete real-time tracking of orders: deleting, media virtualizing, sending, viewing, etc.
Complete audit log
CLINICAL REPORT
Creation of clinical reports with images & hyperlinks on Ultima web interface
Reports imported in several formats
Automatic inclusion of reports through the RIS (HL7)
CHENBRO MINI-ITX SQR30169T2Chenbro
ULTIMA DICOM SOFTWAREFully DICOM 3.0 Compliant & provides the following DICOM services: •Verify SCU/SCP •Store SCU/SCP •Query/Retrieve SCU/SCP (C-GET/C-MOVE/C-FIND) •Storage commitment SCP •IHE compliant
HARDWARE CONFIGURATIONSPatients' data and database installed on hard drives configured in Raid 5, Automatic e-mail alert in case of hardware errors
Possible configurations and storage capacityUltima AL02 2 TB usable, Ultima AL03 3 TB usable, Ultima AL04 4 TB usable
OPTION REPLICATORInstantaneous and configurable data replication through the network on an independent storage box
OPTION WEB REMOTE ACCESSRemote and secure connection to theTerabox through the web, with different levels of compression for quick viewing
OPTION QUALITY CONTROLCorrection of discrepancies between acquired images and patient information associated with those images
More products from this supplier
---