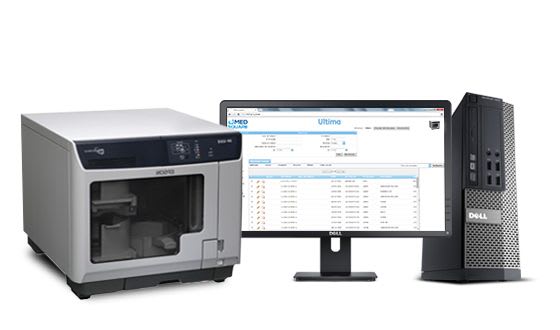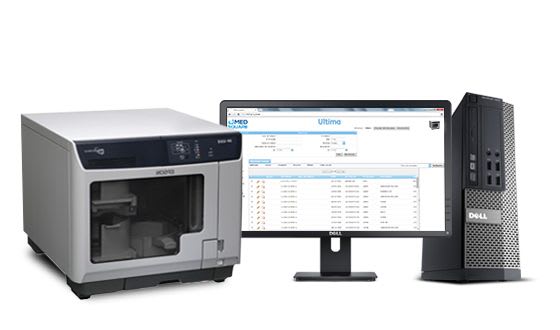 Ultima B100
More than a burning solution
Compact and very easy to operate, Ultima B100 is the perfect solution for producing up to 80-100 discs a day. With its user-friendly and multifunctional web interface, this dual recorder / inkjet printer solution − using the Epson PP100-III Discproducer – Ultima B100 meets most of the needs of your DICOM Workflow in Medical Imaging : manual and automatic disc creation, virtual media through the cloud, scheduled archiving on DVD, unlimited user accounts for simultaneous web viewing, and automatic inclusion of the clinical report.
Features
CONFIGURABLE DISC CREATION
On-demand media creation for DICOM studies (Query/Retrieve)
Automatic disc creation, using powerful rules based on DICOM fields: modality, description, radiologist, AE title, etc.
Automatic disc creation scheduled by delay, fixed date & time or full media
Flexible & customizable disc labelling options (by patient, department, etc.)
Automatic choice of media type (CD or DVD) depending on the study size
Confidentiality & data protection (data anonymization & encryption)
Disc verification & validation
INTERFACE WITH DICOM & HL7 ENTITIES
Unlimited number of connections, multi-modality & multi-manufacturer
Interfaces seamlessly with HIS, RIS & PACS
Complete panel of communication methods: send, receive, retrieve, rout
Automatic routing of exams to multiple DICOM destinations, using rules based on DICOM fields
WEB VIEWER & CD/DVD VIEWER
Auto-run of the DICOM disc on any PC (special viewer for MAC included)
Fast display of series and images before the download starts (viewer light)
Complete set of measurement & annotation / advanced comparative mode & MPR
Possibility to add additional viewers on customer's request
Web viewer allows remote visualization of studies on several PCs simultaneously
VIRTUAL MEDIA
Cloud sharing of DICOM studies in one click
Studies, DICOM viewer & clinical report are selected and automatically packaged
The package is encrypted, password protected, and sent to the Cloud in 1 click
An e-mail − including the link and the password − is automatically sent to one or several destination(s)
The e-mail template is completely customizable and includes instructions
The expiration date of the stored studies is configurable
Data are encrypted (AES 256) and totally secured (SSL protocol)
The storage space is certified SSAE16/SOC1, SOC2, ISAE 3402
INTERFACE
Ergonomic, user-friendly and multifunctional
Web architecture, unlimited simultaneous connections from all of the institution's PCs
User accounts and rights are completely configurable
Complete real-time tracking of orders: burning, deleting, media virtualizing, etc.
Complete audit log
ARCHIVING
Automatic creation of an archive DVD, using rules based on DICOM fields
Automatic disc creation scheduled by fixed date & time or full media
Unique archiving number for each disc allows easy search
CLINICAL REPORT
Creation of clinical reports − with images & hyperlinks − on Ultima web interface
Import of reports in several formats
Automatic inclusion of reports through the RIS (HL7)
EPSON PP-100III
Number of recorders 2
Input bins : 2 / Capacity : 100 Discs (2x50)
External output : 5 Discs, 1 internal output bin : 50 Discs
Up to 2 media types to run concurrently
Recording Speed : CD-R: up to 40x
Recording Speed : DVD R: up to 16x
Printing Resolution 1,440 dpi x 720 dpi (fast mode), 1,440 dpi (quality mode)
Printing Speed : 65 Discs/h (fast mode), 45 Discs/h (quality mode)
Number of cartridges : 6 / Colors : 6 (B, M, LM, Y , C, LC)
Media Types : Printable-surface CD-R, DVD-R, DVD+R, DVD-R DL, DVD+R DL standard or water-resistant
Dimensions (HxWxD) cm : 34.8 x 37.7 x 51.4
Weight: 26 kg
Power supply 100 - 240 VAC, 60/50 Hz
USB Port 3.0
ULTIMA DICOM SOFTWARE
Fully DICOM 3.0 Compliant & provides the following DICOM services:
Verify SCU/SCP
Store SCU/SCP
Query/Retrieve SCU/SCP (C-GET/C-MOVE/C-FIND)
Storage commitment SCP
IHE compliant
SERVER: DELL OPTIPLEX OR EQUIVALENT (storage capacity: 500GB)
Technical data sheet available upon request.
OPTIONS
PET/CT VIEWER
Fusion PET & CT images

REPORT INTEGRATOR :
Automatic inclusion of the clinical report from the RIS (HL7)

QUALITY CONTROL:
Allows to correct discrepancies between acquired images and patient information associated with those images
Gives the ability to auto-match Patient and Study information from the Worklist or PACS, as well as to manually correct errors.
More products from this supplier
---