ECR 2022: European Congress of Radiology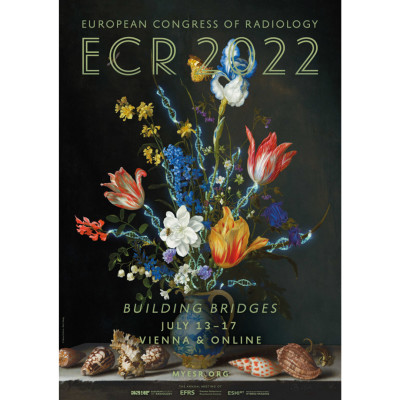 Symposia
July 13 - July 17, 2022
Austria Center Vienna
08:00 - 09:00 Refresher Courses:
Contrast Enhanced Mammography CEM

Speakers:
Gordana Ivanac; Zagreb / Croatia
Jose Carlos Antela López; Las Palmas de Gran Canaria / Spain
Jacopo Nori; Florence / Italy

09:30 - 11:00 3 years to go:
Breast imaging in 2025


Moderation:
Hilde Bosmanns; Leuven / Belgium

Speakers:
Maryellen L. Giger; Chicago, IL / United States
Pascal A.T. Baltzer; Vienna / Austria
Chris De Korte; Nijmegen / Netherlands
Eva M. Fallenberg; Munich / Germany
11:15 – 11:45 Welcome and Keynote Talk:
How did the pandemic harm breast screening programs and how should a return strategy look like?


Moderator:
Aline Hambüchen; Forchheim / Germany


Speaker:
Federica Pediconi; Rome / Italy
12:00 – 13:45 Twin Talks:
The biggest questions in breast screening


Moderator:
Aline Hambüchen; Forchheim / Germany


12:00 – 12:30 1st Twin Talk: The patient in the center: The way forward for women with dense breasts
Panagiotis Kapetas; Vienna / Austria – FFDM & Ultrasound
Pascal Baltzer; Vienna / Austria – Abbreviated MRI protocols
10 min = Buffer & short Break


12:40 – 13:10 2nd Twin Talk: Defining the future role of MRI and CEM in breast radiology
Paola Clauser; Vienna / Austria – CEM perspective
Pietro Panizza; Milan / Italy – MR perspective
10 min = Buffer & short Break


13:20 – 13:45 3rd Twin Talk: How is image interpretation behavior changing with 3D and AI
Ritse Mann; Nijmegen / Netherlands – Radiologist's perspective
Nico Karssemeijer; Nijmegen / Netherlands – Physicist's perspective
14:00 - 14:45 Panel Discussion:
Which breast imaging technologies challenge digital mammography in breast screening?


Moderation:
Aline Hambüchen; Forchheim / Germany


Speakers:
Sophia Zackrisson; Malmö / Sweden
Sylvia Heywang-Köbrunner; Munich / Germany
Mireille Broeders; Nijmegen / The Netherlands
15:00 - 16:00 Panel Discussion:
Pros and Cons: Intermediate risk screening should be done with breast MRI and not with contrast-enhanced mammography


Moderation:
Thomas Helbich; Vienna / Austria


Speakers:
Ritse Mann; Nijmegen / Netherlands - Pro
Marc Lobbes; Maastricht / Netherlands - Contra
16:15 – 16:30 Science slam:
AI in breast care – hype or hope?


Moderation:
Aline Hambüchen; Forchheim / Germany


Speaker:
Marco Caballo, PhD, Nijmegen, The Netherlands:
Radiomics for automated cancer diagnosis: The truce between machine learning and deep learning
16:30 – 17:30 Transatlantic Course of ESR and RSNA
Screening/early detection/organisational issues and differences between countries
Moderation:
Ruud M Pijnappel; Utrecht / Netherlands
Elizabeth Morris; Davis / United States


Speaker:
Fiona J. Gilbert; Cambridge / United Kingdom
Debra Monticciolo; Dallas / United States
Emily F. Conant; Philadelphia / United States

Thursday, July 14
Lung cancer screening and its role in radiology practice
12:30 - 13:30
Level -2, Area D – Lecture Hall 


Friday, July 15
The impact of photon-counting CT
12:30 - 13:30
Level -2, Area D – Lecture Hall 


Friday, July 15
Joint Symposium SHS Ultrasound and Bracco
12:30 - 13:30
Level 0, Area E – Bracco Area


Saturday, July 16
MR Symposium
12:30 - 13:30
Level -2, Area D – Lecture Hall 


Workshops
Organiser
Sponsor
ECR 2022 – Two events in 2022
Due to the developing epidemiological situation in Austria, Europe and the rest of the world at this time, the ESR has made the decision to organise the ECR on March 2-6 as an online-only event and to hold a full onsite ECR in July in Vienna. The onsite congress will now take place on July 13-17, enabling us to hold the event under the most favourable conditions to ensure a safe and secure meeting for all participants. 
ECR 2022 on July 13-17, 2022
This will mark the proper return to a congress in Vienna that so many have been anticipating. This event will be fully onsite, streamed online and offer CME credits. Our SMART congress will deliver an ECR experience like no other, with a highly multidisciplinary programme, exciting summer social events, and a buzzing industry exhibition that will absolutely be worth the wait.
Artificial Intelligence @ ECR 2022
Artificial intelligence, currently one of the hottest topics in radiology and on everyone's lips, will be one of the highlights of the ECR again this year!
A plethora of scientific sessions on AI, ranging from machine learning, deep learning and big data, among others, is already waiting for you. Learn more about the AI activities at ECR 2022 below.
The Artificial Intelligence Theatre
After its hugely successful debut in 2019 and highly anticipated appearance in 2020, the AI Theatre will finally open its stage again at ECR 2022.
The AIX is the best place to explore how machine learning, deep learning and big data are reshaping medical imaging and to find out what the future of radiology holds. Come and meet the ever-growing number of companies and innovators at the forefront of the field and take in industry pitches, keynotes and panel discussions at the AI Theatre.
For everyone interested in radiological AI – the AIX is a must visit during the ECR 2022!
The AI Theatre Programme is organised by the ESR's Imaging Informatics Subcommittee chaired by Dr. Nadya Pyatigorskaya. More details on the AI Theatre programme and the AI exhibitors will be published soon.
Building bridges – have a look at the ECR 2022 programme!
ECR 2022 is focused on multidisciplinarity and building bridges between radiologists and clinicians. The value of imaging and image interpretation lies beyond diagnostics. It impacts treatment decisions and outcomes and plays a vital role in the healthcare continuum. The ECR 2022 programme aims to reflect multidisciplinarity by introducing shorter lectures and longer case-based discussions, and through welcoming a wider variety of clinicians to share their insights.
European Congress of Radiology

Vienna
July 13-17, 2022









More events