ANZICS/ACCCN Intensive Care Annual Scientific Meeting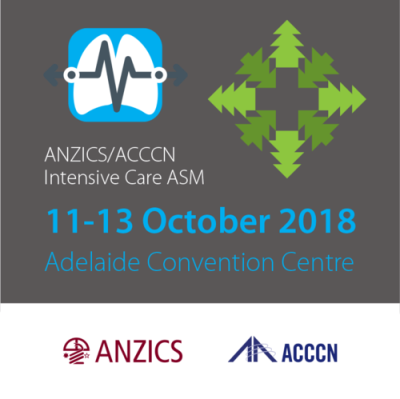 Exhibit
Symposia
Workshops
Organiser
Sponsor
The ANZICS/ACCCN Intensive Care Annual Scientific Meeting (ASM), which incorporates the annual Paediatric and Neonatal Intensive Care Conference is the preeminent critical care meeting in Australasia for the calendar year and will be an important platform that will allow doctors, nurses and allied health practitioners to meaningfully connect and discuss new developments and research in the field of intensive and critical care.
The ASM provides an ideal opportunity to network with professionals, make new contacts and establish important relationships with leading intensive care professionals, and will be held at the Adelaide Convention and Exhibition Centre, 11-13 October 2018.
Key dates
Abstract Submission Opens
13 April 2018
Registration Opens
13 April 2018
Abstract Submission Closes
2 July 2018
Early Bird Registration Ends
12 August 2018
Programme available online here
The ANZICS/ACCCN Intensive Care ASM 2018 will showcase the best international keynote speakers in the forefront of Intensive Care Medicine, with a thought provoking and challenging Scientific Program covering topics such as: large clinical trials, advanced mechanical ventilation, long-term outcomes after critical illness, organ donation and end of life care, and the critical care workforce.
The theme of the meeting is "Finding the Forest through the Trees" and will focus on holistic care, looking at all of the systems not just the finer detail, and will include: plenary sessions, free paper presentations, posters, specialised workshops, small group symposia and industry seminars.
The organising committee are creating a valuable and engaging experience that will include:
A strong program with dynamic international speakers




An entertaining and engaging social program with fantastic networking




A great opportunity to enhance your professional development



Register online here
More events