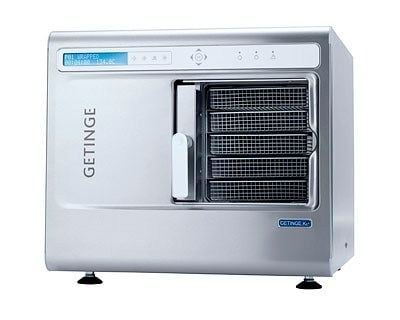 Medical autoclave / bench-top 10 - 20 L | K3, K5, K7 Getinge Infection Control
10 - 20 L | K3, K5, K7
The Getinge K-series tabletop sterilizers work at amazing speeds and can do the work of two units with its superior load capacity. Its speed and loading capacity make you very efficient. It has rectangular chambers that use close to 100% of volume when sterilizing cassettes and trays. The B-process only needs 25 minutes to sterilize a maximum of 10 trays or 20 trays per hour. Also, with a flash program intended for goods that are not wrapped, it just takes 9 minutes to have the goods back in circulation. This allows you to greatly reduce the number of instruments you need. It also has a stainless steel water tank that can be accessed easily for cleaning. It has a safe sliding door and can be connected easily to an external water supply. Furthermore, there are three models available. Each has a different chamber depth and load capacity, allowing you to find the right size for your practice.
Configuration:bench-top
Application domain:medical
---