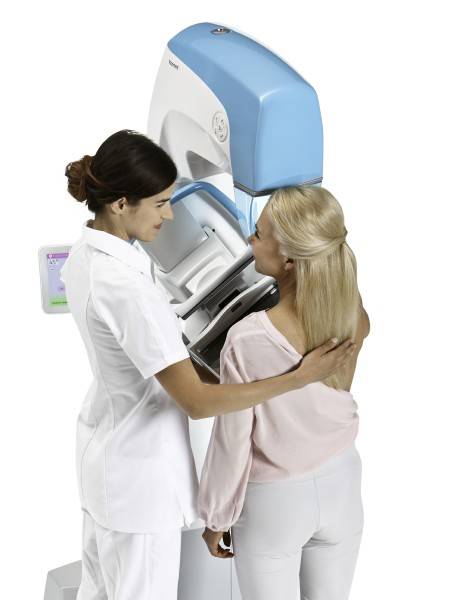 Planmed Clarity™ 3D
High-quality 3D imaging of the breast
The outstanding image quality and high performance makes Planmed Clarity™ 3D one of the most advanced mammography systems in the market. The durable and versatile system can be used for 3D imaging, 2D screening, diagnostic examinations, and stereotactic biopsies. Planmed Clarity 3D is the complete mammography system comprising all the features of the Planmed Clarity™ product family.
Tailored image quality
Planmed Clarity 3D is the most compact system for ultra-sharp digital breast tomosynthesis and digital mammography images. The synthetic 2D feature, Planmed S2D™, helps in the interpretation of images and enables easy comparison with prior images. In addition, the lower exposure to radiation and reduced compression improve patient comfort.
Ensuring the best possible image quality at the lowest achievable patient dose is an everyday challenge in mammography. With the help of leading experts in the field, we have been able to constantly meet the highest standards of patient care and safety – and then exceed them. The Planmed Clarity 3D digital breast tomosynthesis system has an outstanding image quality that adapts image processing to the radiologist's preferences. Image post-processing can also be tailored to the individual needs of each user.
Designed for you and your patients
The Planmed Clarity™ Manager and Planmed Clarity™ Flow software provide a clear and simplified user experience. The customizable individual workflow eases the daily work of the technologists allowing them to concentrate more on the patient.
User comfort and optimal workflow performance are guaranteed by fully motorized functions, isocentric C-arm movements, and the ergonomic placement of unit controls. The Planmed Clarity Flow user interface with dual touchscreens enables easy access to the unit's functions. It guides the technologists through the different imaging modes as well as calibrations in a fast and easy way. In addition, the user can send prior images to the Planmed Clarity Flow software to ease the positioning.
Detector technology: a-Si
Detector size: 24 x 30 cm
Pixel size: 83 um
X-ray tube anode material: Tungsten
Filters: Rhodium, Silver
Swivel range: -135 to +180 degrees
Source-detector distance: 65 cm
Dimensions: 1026 x 994 x 755 mm
Weight: 185 kg
Acquisition Workstation Monitors: 2.1 MP (standard) and 3 MP (optional)
More products from this supplier
---