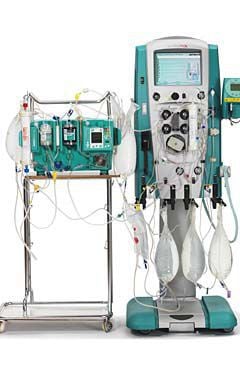 Hemofiltration machine Prismaflex eXeed II™ Gambro
Prismaflex eXeed II™
The Prismaflex eXeed II™ System is the newest improvement to the Prismaflex system. It integrates delivery of calcium and citrate for regional citrate anticoagulation and can be used with the MARS system. Sufficient extracorporeal circuit anticoagulation is important in the efficient delivery of CRRT. Then again, a lot of patients who are critically ill and suffering from AKI are at risk of bleeding and systemic anticoagulation and the use of heparin is not always possible. Regional citrate anticoagulation is an alternative for these patients. However, the efficacy depends on calcium removal from the blood before it makes its way to the CRRT filter. For blood calcium levels to remain normal, it is important to reinfuse calcium to the patient's blood after the CRRT filter. Through the Prismaflex eXeed II software, the replacement of calcium is totally integrated. It is also controlled by the Prismaflex system based on CRRT prescription guidelines.
× × × × × × × × × × × ×
× × × × × × ×
---