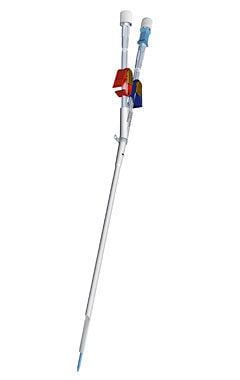 Hemodialysis catheter / vascular / double-lumen HighFlow Dolphin Protect™ Gambro
HighFlow Dolphin Protect™
The unique Dolphin Protect technology has a unique catheter surface for perfect protection that integrates the antibacterial Bismuth additive into the catheter's surface coating. This helps decrease the risk of catheter-related infection, which is one of the major complications associated with the use of indwelling catheters in hemodialysis patients. The Dolphin Protect antibacterial coating system is the first on the market to work without the release of pharmaceuticals, antibiotics, or other active components like silver. It features an optimized lumen design for higher blood flow rates. The sidehole free tip design minimizes the risk of clotting and prevents catheter suction to the vessel wall. Benefits include prolonged catheterization time and better, safer performance throughout the entire treatment.
a:3:{i:0;a:2:{s:4:"name";s:17:"Number of lumens:";s:3:"val";s:12:"double-lumen";}i:1;a:2:{s:4:"name";s:12:"Application:";s:3:"val";s:12:"hemodialysis";}i:2;a:2:{s:4:"name";s:17:"Area of the body:";s:3:"val";s:8:"vascular";}}
× × × × × × × × × × × ×
× × × × × × ×
---