Oxford Artificial Intelligence Programme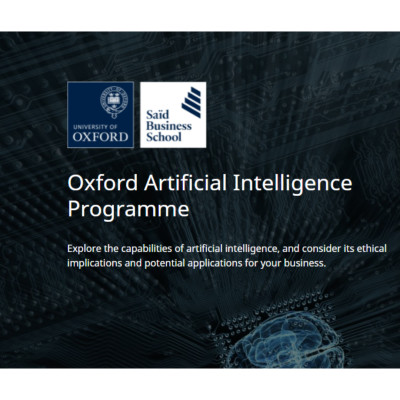 Exhibit
Symposia
Workshops
Organiser
Sponsor
Artificial intelligence (AI) is an exciting, highly debated field of research and practice that offers transformative potential across all sectors of the economy. It's a pervasive technology that has already spawned many disruptive innovations, fuelling often-inflated expectations of what it is capable of, now and in the future.
At the same time, the growing applications of AI have made society aware of both its inherent challenges and the ways in which it's starting to change the future of work across occupations. In order to understand AI and its true potential, people need to firmly grasp how this technology works and its implications for businesses. The Oxford Artificial Intelligence Programme from Saïd Business School, University of Oxford aims to provide you with a sound understanding of AI: its history, functionality, capabilities, and limitations.
Over the course of six weeks, you'll be exposed to empirical research and real-life case studies. On completion, you'll have developed an informed opinion about the possibilities AI holds, and be able to reflect on its ethical implications and potential applications in your organisation.
The programme provides you with diverse insights and perspectives on the ethical, legal, and social considerations around AI so that you're equipped to critically appraise AI technologies. It also introduces you to AI mechanics and subdisciplines, including the different types of machine learning, deep learning, and neural networks. While you won't be expected to code, you'll still get the opportunity to learn about this field and develop a foundational understanding of how the technologies work. Ultimately, you'll assess all the opinions surrounding AI, and then be encouraged to develop your own views about its potential uses in industry and society as a whole, culminating in a business case for the implementation of AI in your organisation.

This programme is ideal for managers and business leaders across multiple industries who are looking to understand the potential of AI and its legal and ethical considerations. It's also designed for technical professionals, such as CIOs, IT managers, and business analysts, who want to discover how AI could be applied to benefit their organisations. This programme aims to bridge the gap between business and technology.

Registration Available Online here
More events