18th Annual Conference German Society for Interdisciplinary Emergency and Acute Medicine (DGINA)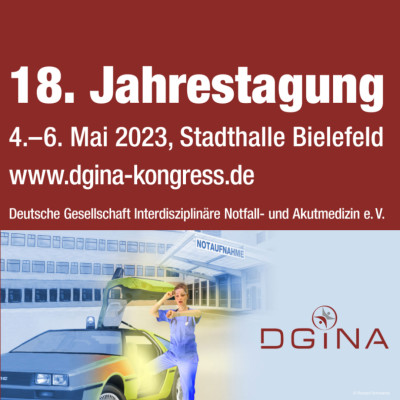 Exhibit
Symposia
Workshops
Organiser
Sponsor
Dear colleagues,
those interested in emergency medicine,
friends of the DGINA,
We are pleased to invite you to the 18th annual conference of the DGINA from May 4th to 6th, 2023 in the Stadthalle in Bielefeld ("The city that doesn't exist").
This year's motto is: Emergency room - off to the future
Acute and emergency medicine as well as emergency care as a whole are in the medical, public and political focus like hardly any other area of ​​medicine. There is no doubt that the emergency room will have to face enormous challenges in the future.
Significant results have recently been achieved and forward-looking developments initiated with the significant participation of DGINA.
" Emergency Room - Off to the Future " is intended to prepare everyone interested in emergency medicine for current and future challenges and to depict the future perspective of the DGINA community.
The emergency rooms can only be well positioned for the future if we recognize the future challenges and use them as opportunities.
As DGINA, we are a strong team: in the exchange of acute and emergency medical skills, in the interprofessional discussion of future topics and in the joint development of future, innovative ideas in emergency care.
The conference wants, should and will align and position us in an interprofessional, intercommunicative and innovative way for the future of emergency medicine.
With this in mind, we look forward to inspiring and welcoming you all to Bielefeld in May 2023 for the future of emergency medicine.
Emergency room – off to the future
dr medical Hans Werner Kottkamp
Prof. Dr. medical Philipp Kümpers
Dr. medical Wilfried Schnieder
Registration will be possible shortly.
Thank you for your interest in the 18th annual conference of the German Society for Interdisciplinary Emergency and Acute Medicine. V. – the program will be published shortly.
More events