Carer Matters offers a caregiver-centric approach to meet the unique and dynamic needs of caregivers of older persons during their adjustment from hospital to home, promoting both their well-being and ability to thrive at home.
Key Points
Family caregivers bear the brunt of responsibilities to deliver long-term care for their loved ones, a key factor that facilitates ageing-in-place in the community.

However, specific support for caregivers' personal needs remains inadequate due to a patient-oriented ecosystem of health and social care.

To meet Singapore's greying population and concomitant healthcare and social needs, its transformation of population health should embrace approaches that deliver greater support for caregivers, ensuring families can provide sustainable care for their loved ones.

Carer Matters is a caregiver-centric hospital-to-home programme that holistically screens, identifies, and provides targeted interventions to meet the needs of caregivers of older persons.

Early feedback and findings of the programme have been positive, demonstrating the value of integrating a caregiver focus into the healthcare systems delivering dyadic support for both the care-recipient and their caregiver.
Singapore's population is rapidly ageing, and this demographic shift has profound implications for the nation's health and social care needs. It is anticipated that in 2030, one in four Singaporeans will be aged 65 or older, with over 900,000 seniors, a rapid increase from its 2015 estimates of 440,000 (Chan 2021). With the increasing prevalence of chronic diseases and limitations on their ability to perform activities of daily living independently, many of these seniors will rely on their family members to provide care to enable ageing-in-place in the community.
Family caregivers form the backbone of the healthcare system, often shouldering the bulk of long-term care. However, caregivers often assume the demanding role with little formal training or preparation while simultaneously straddling other responsibilities in their personal lives. There is an increasing amount of time spent on caregiving that risks a knock-on effect on the economy, with more time spent on caregiving than on waged labour. Recent estimates suggest that the average time spent caregiving per week is expected to increase drastically by 41%, from 29 to 41 hours by 2030 (Chan 2021). This will disproportionately impact families caring for loved ones with multiple functional limitations, necessitating intensive around-the-clock care.
Furthermore, caregivers' needs extend beyond understanding their loved one's health condition and the skills to deliver direct care. Their needs are often highly complex and varied across multiple domains: physical, emotional, social, psychological, and financial (Chan et al. 2019b; Ong et al. 2022). Without any assistance or relief, these stressors can manifest as grief, distress, and anxiety, epitomised in the term "caregiver burden" which reflects caregiving's negative emotional, physical, practical, and social impacts. Unresolved caregiver burden is a recipe for future stress on the healthcare ecosystem. One in three caregivers of hospitalised older adults is at risk of depression, anxiety, and a poorer quality of life (Chan et al. 2018; Chan et al. 2019a). Unresolved stress can directly strain the hospital system, with caregiver distress contributing to emergency room admissions of older persons and their increased length of stay (Lau et al. 2021).
While effort has been made to smoothen care transitions through discharge planning, some caregivers still find the flow from hospital to home a frustrating experience. This points towards unaddressed gaps between current services and the assistance caregivers require to navigate the care transition effectively. For instance, caregivers often run into unanticipated problems during the transition home as they readjust their routines and take on new responsibilities to meet their loved ones' post-discharge needs. Realising that the skills taught by ward nurses during discharge may not always be transferable or applicable in the home context, caregivers can feel lost and distressed, unsure of who or where to turn to when these questions arise. This highlights an existing care gap for immediate post-discharge support for caregivers, especially if their loved ones do not possess complex care needs that require close follow-up by community health teams. Instead, such patients and their caregivers often 'fall through the cracks', assumed to be able to self-manage and cope until their outpatient follow-up.
With caregivers playing an indispensable role in supporting older persons, it is vital to ensure that their well-being is protected to allow the delivery of optimal, effective, and sustainable care. This reinforced the need for caregiver-specific interventions and targeted support beyond basic nursing skills. To help both the caregiver and the older person thrive at home, healthcare systems can provide additional holistic support to address caregivers' psychosocial stress and needs.
Smoothening the Transition from Hospital to Home
Hospitals provide an important touchpoint where caregivers experience higher stress levels due to the acute deterioration of a patient's condition and may need to acquire new skills to continue caring for patients, post-discharge. Recognising that hospitalisation serves as an opportune time to support caregivers, we established Carer Matters. This is a caregiver-centric hospital-to-home programme to holistically screen, identify and provide targeted interventions for caregivers of older persons hospitalised at TTSH. Carer Matters' suite of interventions are delivered by a team of caregiver support nurses, registered nurses specially trained in the management of older persons and addressing caregiving stress.
Since its establishment three years ago, Carer Matters has supported over 600 caregivers, helping them to navigate the care journey back home. Carer Matters' framework and structure can be described in four key components reflected in Figure 1. More details on the individual interventions provided for caregivers and the mechanisms are discussed in our earlier paper (Chan and Glass 2022). We have also included below some of the findings from a feasibility study we conducted on Carer Matters below. The study elicited feedback from caregivers and relevant stakeholders and revealed programme evaluation findings, using data collected over the programme's pilot from 2019 to 2022. Two case studies of caregivers supported through Carer Matters can be found in Table 3.
1. Identifying and Assessing Caregivers' Needs and

Stressors

The identification of caregivers begins when they visit their loved ones in TTSH inpatient wards. Caregivers are approached by the inpatient ward team, such as nurses and ward clerical staff, to communicate the objectives of Carer Matters and its services, directing them to complete an online needs assessment form upon affirming their interest.




Risk stratification methods are essential to identify caregivers at the highest risk of poor physical and mental health outcomes, enabling better triaging into appropriate services and tailoring care. To identify caregivers at risk of distress and burden, Carer Matters uses a locally validated brief screening tool to screen and stratify family caregivers at risk of negative health outcomes (Chan et al. 2019a). The tool is shown in Table 1. Caregivers at risk of stress are then flagged for priority telesupport, detailed below.



2. Educating and Empowering Caregivers
The entry into caregiving can be abrupt and unexpected. Caregivers are increasingly called upon to deliver complex care, monitor and manage their loved ones' health symptoms, but often possess unmet needs as they lack the information, support, and confidence to perform these tasks adequately. Additionally, caregivers may not be aware of the range of support services for them and their loved ones, posing a barrier to accessing formal support services.
Personalised resources sent to caregivers
To increase the accessibility to information and education resources, Carer Matters provides personalised resources to caregivers via email or text messages. Based on their identified needs, caregivers receive a caregivers' guide containing relevant resources such as information on their loved one's condition, community-based services, and financial aid. Some extracts from the guide are in Figure 2. All caregivers referred to Carer Matters have received resources personalised according to their needs, which were automatically despatched upon completing the needs assessment form. Individuals new to the caregiving role were especially appreciative of the list of collated emergency contacts and links to respite care, counselling, and support groups.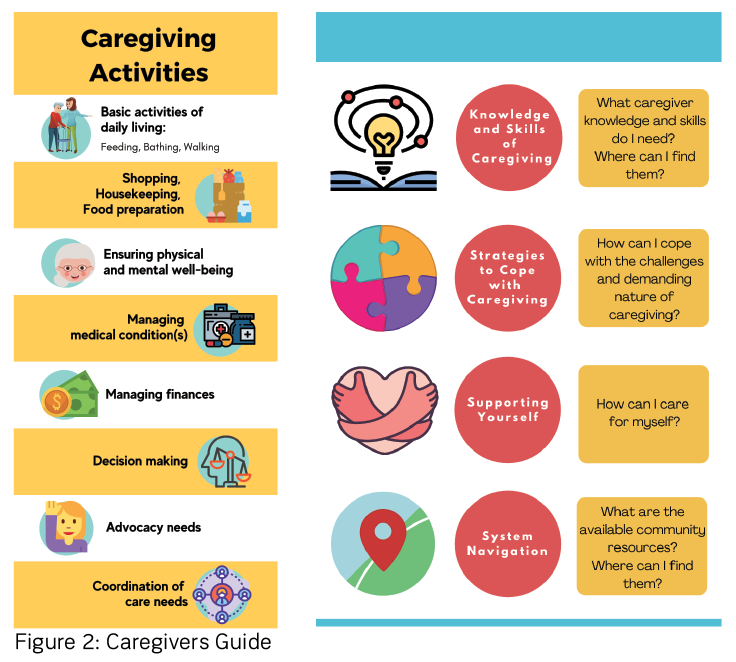 Caregiver training courses
The caregivers' guide also offers recommendations for in-house and community training courses to assist them with caregiving, strengthening their ability to care for themselves and their loved ones. One example is an adaptation of Mount Sinai Hospital's CARERS Programme, which equips caregivers with practical skills and knowledge of their loved one's health condition and management. Such courses enhance caregivers' competence and readiness to handle current and future care needs. A list of these courses is shown in Table 2.
Underpinned by adult learning pedagogies, Carer Matters delivers a range of in-house training courses that adopt a combination of experiential learning and social learning approaches. For instance, caregivers of persons with dementia can learn practical skills to improve communication and better manage difficult behavioural and psychological symptoms of dementia, such as agitation and aggression. During the course, caregivers are also encouraged to share their caregiving experiences, personal tips, or advice with other participants. The recognition of their shared experiences helped to build a sense of interconnectedness and reduce feelings of loneliness and isolation inherent in caregiving.
3. Supporting the Well-being of Caregivers
It is essential to provide emotional and psychological support to caregivers, which can take the form of telesupport or routine text-based wellness check-ins to assess their current coping capabilities. We do so through our telesupport, as shown in Figure 3.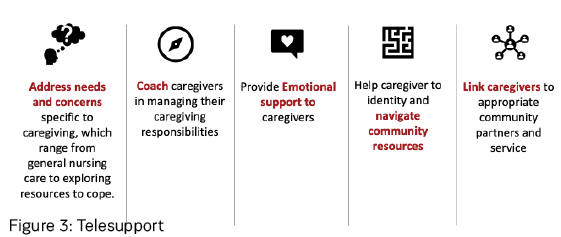 Through the needs assessment, caregivers identified to be at risk of stress will be prioritised for immediate telesupport and proactively contacted and engaged. The caregiver support nurse first obtains a better understanding of their caregiving context, needs, and available resources and subsequently adopts a collaborative approach with the caregiver to problem-solve and explore various care options.
The help rendered includes directing caregivers towards medical or social support services and advising them on the process of navigating community resources, arranging clinic appointments and coordinating with other clinical teams to facilitate access to care services. Caregivers were greatly appreciative of the telesupport and information provided, sharing that it gave them a sense of relief knowing that they were not alone on their caregiving journey and that the nurses were just a phone call away.
4. Strengthening Collaboration and Coordination among Stakeholders
Carer Matters aims to bridge service linkages between healthcare and community care services. Establishing tighter referral processes with other service providers allows caregiver support nurses to quickly connect caregivers to relevant services or programmes in the community. The caregiver support nurses then assess the caregivers' needs and caregiving context and hand the case to the community partners for long-term follow-up and monitoring.
Carer Matters have also worked closely with TTSH's Central Health's community partnership team to establish eight partnerships with community providers in our region.
Impact of Carer Matters
The preliminary successes of Carer Matters have been promising, extending its outreach to caregivers in need beyond the hospital setting. To date, 664 caregivers have been identified and referred to Carer Matters upon completing the needs assessment form. 275 caregivers were identified as at risk of caregiver stress and were contacted by the caregiver support nurses, 74 of whom required longer-term follow-up support by the nurses. Additionally, a total of 27 caregiver training courses have been conducted, benefitting 240 caregivers. 97% of surveyed caregivers reported that the training improved their knowledge of their care recipients' disease, and 99% said the programme addressed their needs. This shows the value of caregiver-centric training and equipping, strengthening their knowledge and skills for care. Carer Matters has linked several caregivers to community partners' services and connected many caregivers in need with peer support groups.
Building Towards Family-Oriented Patient Care
The transition from hospital to home can be a stressful and challenging experience for both patients and caregivers. To create a society where seniors can age-in-place and lead empowering and enriching lives, the invisible contributions of caregivers should not be ignored. Implementing a hospital-to-home service for caregivers like Carer Matters provides an opportunity to transform the caregiving experience and improve patient outcomes, such as reduced readmissions and institutionalisation. Moving forward, Carer Matters can be a building block for establishing dyadic care from the hospital-to-home, designed to benefit both the patient and their caregiver.
Conflict of Interest
None.