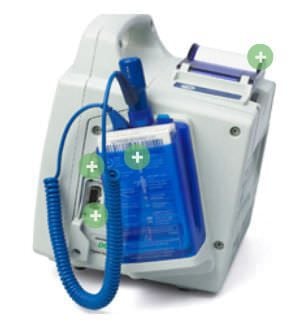 Vital signs monitor 506N3 VitalCare™ series Criticare Systems
506N3 VitalCare™ series
With continuous spot checking the monitor provides 3 critical parameters on neonates to adults all from a single monitor. Designed for mobility and the VitalCare™ series for patient monitor is designed with an integrated system, of carry handle which attaches easily and quickly to rollstands and IV pole mounts. Comes in multiple configurations, such as Nellcor oximetry, Criticare all from VitalCare™ signature care series proving superior support and versatility all at a cost effective price. Smart power management, will provide up 100 NIBP readings on a single charge. Compact design provides continuous spot check that is easily setup, the 506N3 patient monitor series by VitalCare™ is designed to adapt to all hospitals clinics and transportation requirements. Benefits and features, Proprietary ComfortCuff® NIBP monitors on inflation providing, comfortable and faster readings. Available in Nellcor OxiMax™ SpO2 technology or Criticare's DOX™ SpO2Visual and audible alarms are adjustable provides notification in the moment of need. Also provides Alaris TurboTemp™ for predictive temperature and Optional FILAC FasTemp.
× × × × × × × × × × × × × × × × × × × × × × × × × × × × × ×
× × × × × × ×
---