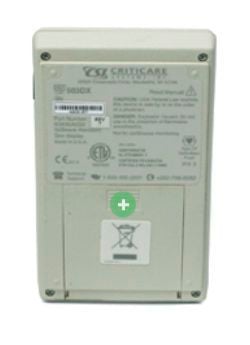 Handheld pulse oximeter / with separate sensor 1 - 99 % SpO2 | 503DX miniSpO2T™ Criticare Systems
1 - 99 % SpO2 | 503DX miniSpO2T™
Introducing the miniSpO2T™, the perfect way to detect and assess changes in oxygen saturation, fast. This model has the same advanced DOX™ digital technology as our other monitors, and also measures heart rates in neonatal all the way to adult patients. The miniSpO2T™ is lightweight, user friendly, and reliable, making it ideal for spot-check and transport monitoring in hospitals, clinics, private offices, and EMS. Enjoy its practical features such as the 24-hour continuous operation, Advanced DOX™ SpO2 and heart rate for routine, periodic spot-check measurements and transport monitoring. With just one compact, ultra-lightweight, handheld monitor, accommodate all or your patients, Unique DOX™ digital SpO2 technology for improved pulse recognition and artifact rejection. Fully compatible with Criticare's comprehensive line of high-quality reusable and disposable sensors. Runs on four AA batteries.
a:1:{i:0;a:2:{s:4:"name";s:14:"Configuration:";s:3:"val";s:30:"handheld, with separate sensor";}}
× × × × × × × × × × × × × × × × × × × × × × × × × × × × × ×
× × × × × × ×
---