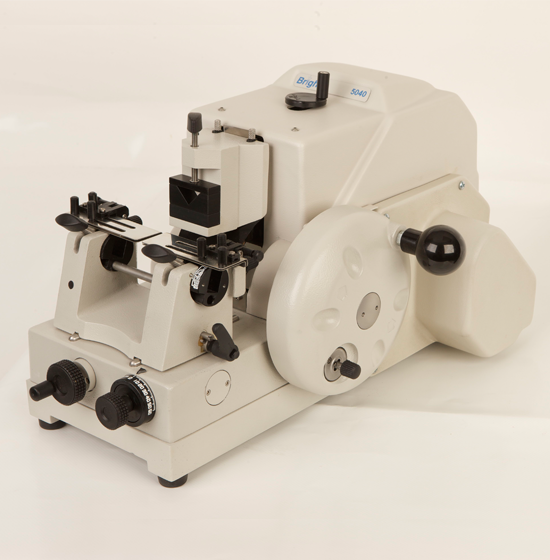 Rotary microtome 5040 Bright Instrument
5040
The popular 5040 microtome is of rotary retracting, self-lubricating design and has a heavy cast alloy base and cutting arm. Its robust construction makes it accurate and incredibly reliable.
The use of fixed beryllium hinges means that all lateral motion is controlled and allows no slop or play that can be experienced in other, lesser designs which can result in 'chatter' and 'thick and thinning'. Its pawl and ratchet wheel and head-advance design ensures absolute calibration for section thickness accuracy and repeatability.
Easy to use rotary retracting microtome with wide range of optional features
Choice of advance/rewind handle positions
Motor drive with zone control is available
Of hard wearing construction and maintenance free
Standard knife holder accepts most conventional knives
Quick release feather blade holder can be fitted
Specimen feed indicator
Safety features include fitted knife guards and locking handwheel
Construction
Rotary rocking design of cast alloys, with detergent and solvent resitant epoxy-polyester finish

Section Thickness Range
Standard range 1-60um in 1um steps for wax microtomes and 0.5-30um in 0.5um steps for the cryostat version

Specimen Advance
Total specimen advance is 5600um

Knife Block Movement
Total knife block movement is 44mm

Retraction
Approximately 50um

Cutting Stroke
56mm

Specimen Orientation
+/-8° in horizontal and vertical axes (Also available without specimen orientation)

Remaining Feed Indicator
Visual Display

Knife Holders
Standard knife holder accepts conventional steel knives, tungsten carbide tipped knives, glass knives and disposable blade holders. Sliding knife carriage with central lock. Alternatively the quick release feather blade holder is available as an optional feature either in addition or instead of the standard knife block

Motorised Section Cutting
(Optional) With variable speed, variable cutting zone, single or continuous modes, hands off footswitch and emergency stop

Safety Features
Counter Balance handwheel with safety lock. Integral knife guards, sliding both ways to cover knife edges

Dimensions
H300 x D500 x W300mm
× × × × × × × × × × × × × × × × × × × × × × × × × × × × × ×
Sovereign Park, Laporte Way, Units 1-3
× × × × × × × × ×
---