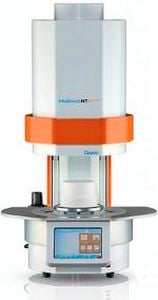 Press furnace / dental laboratory / ceramic 250 - 1200 °C | MultimatNTX DENTSPLY DeguDent
250 - 1200 °C | MultimatNTX
Multimat® NTX furnaces are fast and simple to operate – and still they can be customized down to the most minute detail, supported by its intuitive user interface and its high-quality TrueColor touchscreen. Temperature is distributed homogeneously and temperature control optimized for brilliant fi ring results with a host of different ceramic materials. Advantages: Universal firing/pressing furnace for all common ceramic systems, including lithium disilicate ceramics Neutral contemporary design to match any lab environment High-quality True Colour touch screen displays patient information and renders natural-looking application and training videos. Compatible with video, JPG and MP3 files Extremely small footprint, fits in any laboratory – even if space is at a premium. "Made in Germany" quality, approved according to international and ETL standards. Furnaces are subjected to one week of continuous stress testing before delivery. Continuous thermo couple monitoring. Power adapter monitors for voltage peaks and short-term power loss. Two-year warranty.
a:3:{i:0;a:2:{s:4:"name";s:9:"Function:";s:3:"val";s:5:"press";}i:1;a:2:{s:4:"name";s:7:"Domain:";s:3:"val";s:17:"dental laboratory";}i:2;a:2:{s:4:"name";s:13:"Designed for:";s:3:"val";s:7:"ceramic";}}
---