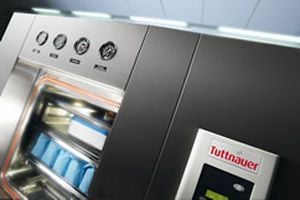 Medical autoclave / vertical / with steam generator 120 - 310 L | 44, 55 series Tuttnauer
120 - 310 L | 44, 55 series
The 44 and 55 series of compact autoclaves by Tuttnauer provide ideal instrument sterilization solutions for hospitals and medical centers. These autoclaves feature chamber volumes ranging from 120 to 310 liters with operating temperatures ranging from 105 degrees celsius (221 degrees F) to 138 degrees celsius (280F). The working pressures of these autoclaves are fully within AMSE and PED requirements. The 44 and 55 series offers a single or double door option for each of the models. Physicians can also select a sliding door option. No matter the choice, two safety features common to all models are that steam is not allowed to into the chamber when the door is open; a door can also not be opened while the chamber is pressurized. These models come with additional safety and user-friendly features as well.
Application domain:medical
Other characteristic:with steam generator
Configuration:vertical
---