STATE OF THE ART MR-IMAGING IN DEMENTIA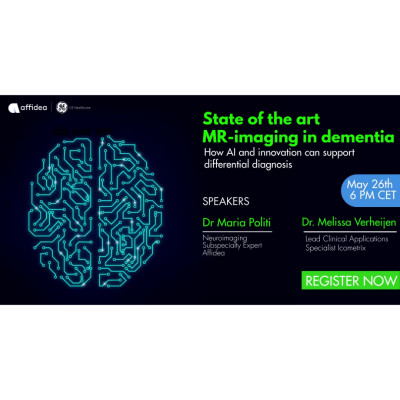 Exhibit
Symposia
Workshops
Organiser
Sponsor
Dementia is a debilitating disease that has touched many of our lives. In 2018, an estimated 9.1 Million people were living with dementia in EU member states with this number expected to rise by about 60% over the next two decades to reach 14.3 million in 2040.1
In this webinar we discuss the role of MR imaging in dementia and how emerging AI technologies can support differential diagnosis and provide invaluable information for disease management.
With new disease modifying treatments on the horizon this could bring significant improvements in quality of life for patients and their families alike.
PROGRAM
Dr. Alessandro Roncacci, Senior Vice President Affidea - Introduction
Dr. Maria Politi - "The Role of Neuroimaging in Dementia"
Key points:
A systematic approach for MRI in Dementia
Typical imaging findings in the most common dementia syndromes
An overview of neurodegenerative disorders which may be associated with dementia.
Dr. Melissa Verheijen - "The use of MRI quantification in the differential diagnosis of dementia"
Key points:
MRI in dementia & Alzheimer's Disease

Normal ageing vs pathological ageing

How can we extract more information from MRIs to reduce the time to diagnosis?
Automated quantitative analysis to detect & diagnose
The future: MRI to monitor Disease Modifying Therapies for Alzheimer's Disease
Q&A
Registration Available Online here
More events