ESOR Foundation Courses 2023 - Medical Imaging Informatics/3D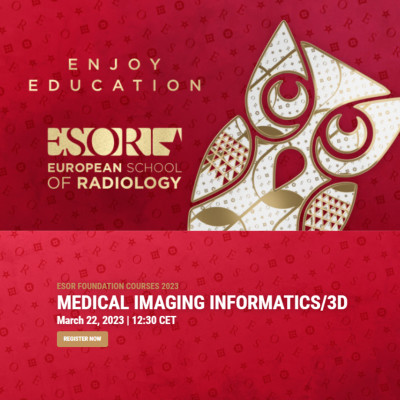 Exhibit
Symposia
Workshops
Organiser
Sponsor
There is a gap in the education program of radiology professionals in post-processing of medical images and use of additive manufacturing in Planning surgeries and training.
Segmentation of medical images, anatomical models & 3D printing, and virtual technologies are transforming the healthcare industry, with an increasing role in clinical training, surgical planning, personalised medicine and medical imaging research. The American College of Surgeons published in 2016 that 3D planning is revolutionizing the surgical planning of complex surgeries and the education of new residents.
After acquiring a medical image, structures of interest need to be segmented. It can be then used to create patient-specific, highly accurate computer models of organs and tissue. Widespread use of these technologies in healthcare is being fairly slow due to the complexity involved in these software tools and to professionals' underdeveloped digital skills. More multidisciplinary knowledge and teams are needed. This course fosters the development of multidisciplinary skills in order to allow digital transformation of healthcare system through 3D planning & printing and visualization techniques. The course will contribute to develop the radiological european training curriculum, filling in the demand in hospitals due to the current gap in knowledge.
The main goal of the course is to offer theoretical training material to allow the acquisition of knowledge to perform post-processing of the radiological image, applied to the 3D image, additive manufacturing and virtual technologies in clinical daily routine and research.
LEARNING OBJECTIVES
To acquire basic knowledge in the field of additive manufacturing in healthcare
To learn about the relevant technical standards in 3D imaging and 3D printing (DICOM, STL, …)
To understand the potential value of 3D in surgery planning and medical training
To become familiar with the relevant rules (MDR, etc.) and regulations regarding biomodels and medical devices (cutting guides, …)
More events