CHEST Annual Meeting 2019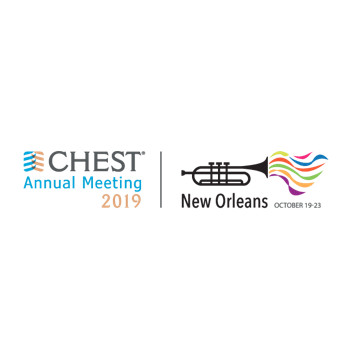 Symposia
In-booth lectures @ Booth #713
Performing ultrasound-guided pleural procedures
Dates
Monday, October 21 2019: 12:00-1:30pm
Tuesday, October 22 2019: 12:25 - 1:30pm

Program
Discover recent advances in the use of thoracic ultrasound for the diagnosis and treatment of pleural disease.
Lung ultrasound is a necessary, key component in both pulmonary and critical care settings due to its high diagnostic accuracy and its ability to be performed at the bedside. In cases of pleural effusion, ling ultrasound could be an essential component of care, from the initial diagnosis, through clinical management, and all the way to the patient's final treatment.
Please join us for a presentation followed by an open forum and hands-on demonstration about the use of thoracic ultrasound for pleural effusion.
This event will also include the following topics:
- The advantages of ultrasound
- The complications associated with pleural drainage
- Procedural approaches
- Case studieS
- Best practices

Presenting faculty
Seth Koenig, MD FCCP
Director of Education / Professor of Medicine
Division of Pulmonary Medicine, Montefiore Medical Center, New York City, NY
Workshops
Organiser
Sponsor
WHY YOU SHOULD ATTEND THE CHEST ANNUAL MEETING
CHEST Annual Meeting is the premier event in clinical chest medicine and has something for every member of your team. Come to CHEST 2019 for the latest original research, postgraduate courses, interactive case-based discussions, simulation sessions, CME and MOC for hundreds of sessions, CHEST Games, valuable networking opportunities with other professionals, and more! This year's meeting is one that you will not want to miss.
The CHEST Annual Meeting started in 1935 in Albuquerque, New Mexico. Spearheaded by a tuberculosis patient, CHEST founder Murray Kornfeld, this small gathering of health-care professionals has grown into the premier chest medicine education meeting for clinicians—the CHEST Annual Meeting.
Head to New Orleans this October for CHEST Annual Meeting 2019 for the latest original research, postgraduate courses, interactive case-based discussions, simulation sessions, CHEST Games, and more! CHEST 2019 allows clinician members of the entire health-care team to stay up to date on pulmonary, critical care, and sleep medicine.
The meeting is from October 19-23, beginning with half-day and full-day postgraduate courses on Saturday, October 19, continuing on to Sunday's Opening Session on October 20, and the Exhibit Hall opening Monday through Wednesday.
WHY ATTEND CHEST 2019?
Meet and learn from other experts.
If you want to meet other peers or learn from more experienced physicians from around the world, there are plenty of opportunities to meet and network in places like the Trainee Recharge Lounge, Donor Lounge, NetWork/Trainee Mixer, and any of our evening receptions. There are also meetings for the different NetWorks that you can attend to meet with like-minded clinicians.
Programs for advanced practice providers (APPs).
CHEST is committed to incorporating and advancing the education of APPs. As we focus around the full health-care team, APPs are eligible for the FCCP program; we offer reduced registration pricing for APPs and include a team-based approach for more relevant teaching.
Earn CME/CE credit and ABIM MOC points.

Attendees who participate in the meeting can claim a maximum of 33.5 CME/CE credits and up to 33.5 MOC points.
Have serious fun!
Don't forget to check out our most popular and fun events including: the always exciting and energetic CHEST Challenge Competition; the CHEST Foundation Young Professionals Reception, where early-career clinicians can get to know each other in an informal setting; and new this year, is the casino night hosted by CHEST Foundation. There are many lively events that set CHEST 2019 apart from any other medical conference, so bring your whole team and enjoy!
CHEST Annual Meeting also offers:
More than 400 sessions
Original investigation presentations with new, unpublished science
New diagnostic and treatment solutions showcased in the CHEST Exhibit Hall
And much more. Educational programming and a complete list of events will be updated soon. Please check back frequently for new details.
Programme available online here
Registration available online here
More events