British Association of Critical Care Nurses (BACCN) Conference 2021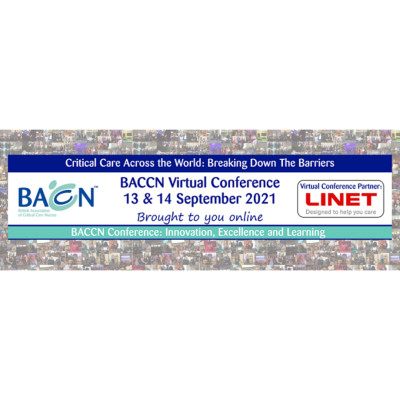 Exhibit
Symposia
Workshops
Organiser
Sponsor
In early 2020, it was with great anticipation that we announced our first joint BACCN and IACCN conference that was due to take place in Belfast. However, as times continue to be uncertain and changes in restrictions being announced regularly, it has become increasingly difficult to see how we would be able to deliver the kind of conference we foresee for this joint venture in the next 10-12 months. Therefore, alongside our IACCN colleagues, we once again made the difficult decision to delay our joint BACCN/IACCN Conference until 2022, when we can do this justice with a full face-to-face conference without restrictions.
The international focus on Critical Care services have significantly increased because of COVID-19. A significant proportion of patients diagnosed with COVID-19 required input and/or admission to Intensive Care which required an unprecedented action to increase capacity to cope with the influx of patients on top of an already busy system. Delivering sufficient critical care (throughout the whole patient and family journey) goes far beyond the physical infrastructure, such as beds and equipment – it first and foremost requires a highly trained, skilled and experienced multidisciplinary workforce to deliver the individualised care we all believe each patient deserves.
I wanted to keep the original theme of "Critical Care Across the World: Breaking Down Barriers" as this exemplifies what Critical Care is as a speciality, but even more so, what Critical Care Nurses have done across the world over the last 12 months whilst being in the centre of this unprecedented global pandemic. We will continue not just to share our learning and experiences but celebrate our profession, not just for this year, but even more so for our joint venture with the IACCN in 2022 when we once again meet up in person in Belfast.
Back in September 2020, we were one of the first organisations to embrace the virtual world with a remarkably successful 35th conference. I want to once again give thanks to LINET, our main conference partner, alongside all our other corporate partners and industry sponsors that took that leap of faith with us and supported us in delivering our first virtual event. It was fantastic to see how many of you embraced the challenge to present the work you did remotely and like every year you made the conference the success it was.
Similarly, to us all learning every day about COVID-19 we as the BACCN Conference Team have learned from our first venture into the virtual world and with this in mind we bring you our 2nd BACCN Virtual Conference. I want to invite you to join me to share and learn together into what makes this the speciality we work in every day. This is the perfect opportunity to submit an abstract for either an oral or poster presentation to form part of our virtual conference programme.
Programme Available Online here
Registration Available Online here
More events