2020 World Critical Care and Anesthesiology Conference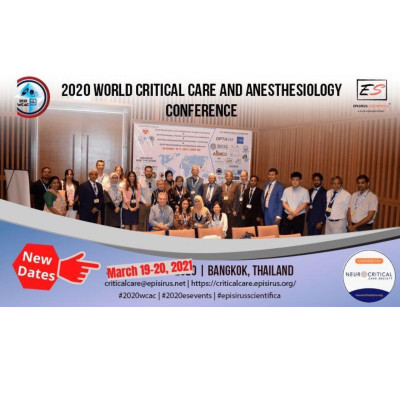 POSTPONED DUE TO COVID-19 HEALTH CONCERNS 
NEW DATES: 19-20 MARCH, 2021
Exhibit
Symposia
Workshops
Organiser
Sponsor
2020WCAC Goes Fully Virtual this March 2021
With COVID infections once again on the rise around the world, 2020WCAC has taken the difficult but necessary decision to make the 2020 World Criticalcare & Anesthesiology Conference a virtual conference during March 19-20, 2021. Unfortunately, with infections again increasing and short notice quarantines being put in place, it is now clear that it is still too early to host 2020WCAC as a physical conference.
2020WCAC is fully prepared to deliver online the unique interactive experience we offer each year at our physical meeting. We are determined that none of our international colleagues will miss out on any of the conference sessions, nor the opportunity to present his or her work to colleagues from all over the world.
We hope you understand and support this move and look forward to welcoming you to the 2020WCAC Conference online from Friday 19th March 2021 to Saturday 20th March 2021.
Programme Available Online HERE
Registration Available Online HERE

More events