10th World Congress of the World Federation of Pediatric Intensive & Critical Care Societies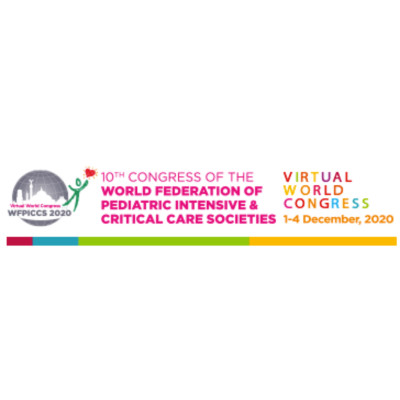 POSTPONED DUE TO COVID-19 HEALTH CONCERNS TO DEC 1-4TH AND CHANGED TO VIRTUAL CONGRESS.


Find WFPICCS on Social Media
Exhibit
Symposia
Workshops
Organiser
Sponsor
On behalf of the WFPICCS Board and our Congress Committees, it is my great pleasure to invite you to the 10th World Congress of the World Federation of Pediatric Intensive & Critical Care Societies (WFPICCS20) taking place in Mexico City, Mexico, from June 14 to 17, 2020.
We enjoyed a fantastic Congress in Singapore in 2018, with 1420 participants from over 80 countries, and we now look forward to welcoming you to Mexico City for another global education and networking event aimed at the pediatric emergency, critical care & intensive care communities, pediatricians and other related pediatric subspecialties.
WFPICCS' Local and International Scientific Committees are again planning a diverse and interesting selection of regional and international speakers, with #WFPICCS20 offering a combination of workshops, plenaries and thought-provoking written and oral abstracts. #WFPICCS20 will not only address regional topics of interest but also those of global relevance.
The way we treat and care for critically ill-children and their families is constantly evolving due to the ever-changing healthcare landscape. Factors such as geopolitics, migration, global warming, technology, research, education, and labor market forces, all impact the healthcare system and in turn our specialty. The #WFPICCS20 theme 'Critical Care Without Borders: Intensive Caring Everywhere' is a shout-out to our shrinking world in which we find ourselves increasingly interconnected. While globalization poses challenges, these are far outweighed by opportunities – our ability to collaborate, share knowledge and experiences, and our strong commitment to providing the best treatment and care to children and their families, no matter where they live.
In Mexico City we will shine the spotlight on the hot topics of the day, address challenges while highlighting possible solutions. All this and more from highly skilled and passionate #PEM & #PedsICU community members in an international and multidisciplinary environment.
Mexico City, the capital of Mexico, is a booming metropolis with cosmopolitan restaurants, world-class museums and built directly on top of what was once the capital of the Aztec Empire. Mexico is the 9th most visited country in the world, and in terms of travel safety, the US State Department currently ranks Mexico City in the same category as Germany, UK, France, Spain, Italy and Denmark. #WFPICCS20 will take place at the International Exhibition and Convention Center located at the World Trade Center and only 12kms from the international airport. This safe neighbourhood offers many shopping opportunities, hotels and eateries all in close proximity of the congress centre.
Whether you've been working in the field for many years or are just starting out, this congress will offer something for everyone. #WFPICCS20 will again present a unique opportunity to learn from each other, meet with expert colleagues, and allow plenty of time for discussion and networking.
So please join us in Mexico City! WFPICCS is looking forward to welcoming you.
Programme available online here
Registration available online here




More events