AHIP Institute & Expo 2016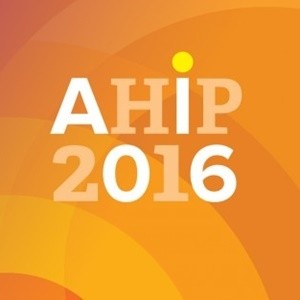 Exhibit
Symposia
Workshops
Organiser
Sponsor
LAS VEGAS, NV
AHIP's Institute & Expo is about strategic solutions to help you advance your organization's biggest and most complex priorities.

It's the most comprehensive industry gathering you'll find that's focused on thought leadership, idea sharing, and industry vision.
YOU'LL FIND ANSWERS TO ESSENTIAL QUESTIONS FACING HEALTH PLANS
What are the biggest disruptors to our health care system, where are they coming from, how can they affect your future business strategies?
What's the secret to winning the hearts and minds of consumers to earn their trust and establish a long-term relationship?
How can you most efficiently direct population health and address the needs of those with chronic conditions or poorer health?
How can you use big data to make better business decisions, streamline operational and assessment processes, improve clinical care outcomes and enhance the consumer experience?
What best practices and evidence-based programs are creating a culture of wellness and prevention, and delivering results?
How can we improve clinical care, increase efficiencies, and reduce costs through improved digital infrastructures and technology?
DEADLINES: Early Registration Ends: May 18 Cancellations:May 23
Early Registration Rates
Standard Registration Rates
One Day Rates
Member
$1295
$1595
$925
Non-Member
$1595
$1895
$1275
Government
$925
$1295
Payment
Registrations will not be processed without payment. Make checks payable to AHIP and mail to: AHIP, 11208 Waples Mill Road, Suite 112, Fairfax, VA 22030
Early Registration Discount
To qualify for the early registration discount, AHIP must receive registration and payment no later than May 18, 2016.
Registrations received after this date are subject to the standard registration fees.
| | |
| --- | --- |
| June 15 | |
| | |
| 7:00 am- 7:00 pm | Registration and Information Desk Open |
| 11:00 am-7:00 pm | Exhibit Hall Open |
| 11:45 am-1:00 pm | Institute & Expo Luncheon Exhibit Hall |
| 1:00 pm-1:30 pm | Conference Moderator |
| | Susan Dentzer, President and Chief Executive Officer, Network for Excellence in Health Innovation |
| | Welcome and Opening Remarks: The Future of Health Care and Plans Leading the Way |
| | Marilyn Tavenner, President and CEO, America's Health Insurance Plans (AHIP) |
| 1:30 pm-2:45 pm | General Session |
| | Better Health Care at Lower Cost: Is It Possible? |
| 2:45 pm- 3:00 pm | Coffee Break |
| 3:00 pm- 4:00 pm | Health Care Consolidation: Trends, Impact and Regulation |
| | Concurrent Session |
| | Leading in the New Health Care Economy: Industry Innovation, Disruption and Transformation |
| 3:00 pm- 4:00 pm | Five Uncommon Choices of the Best Consumer Experience Companies |
| | Concurrent Session |
| | Creating Exceptional Experiences: Putting the Customer at the Center of Service |
| | How to Work with Government as Your Largest Customer |
| | Concurrent Session |
| | Expansion of Federal Programs in the Evolving Health Care Marketplace |
| | The federal government is the largest single payer of health care in the United States, accounting for |
| | Culture + Verifiable Results = Wellness Program Success |
| | Concurrent Session |
| | |
| | The Business Case for Addressing Patients' Social Needs in Health Care Delivery |
| | Concurrent Session |
| | Value-Based Partnerships Transitioning the Payment and Care Delivery Landscape |
| | Using Data to Drive Better Health Care |
| | Concurrent Session |
| | Business Intelligence: Turning Data Analytics and Insight into Action |
| | Your Members Are In The Pharmacy. Are You?! |
| | Concurrent Session |
| | Technologies and Business Solutions Driving Operational Efficiency |
| 4:15 pm-5:15 pm | Investing in Health Care Innovation in a Fast-Changing Market |
| | Concurrent Session |
| | Leading in the New Health Care Economy: Industry Innovation, Disruption and Transformation |
| | Reinventing the Health Plan: How Creating a Magnetic Offering is the Path Forward |
| | Concurrent Session |
| | Creating Exceptional Experiences: Putting the Customer at the Center of Service |
| | Medicare Advantage: Delivering Value for Beneficiaries Through Innovation |
| | Concurrent Session |
| | Expansion of Federal Programs in the Evolving Health Care Marketplace |
| | The Changing Path to Purchase and the Importance of ZMOT |
| | Concurrent Session |
| | Business Intelligence: Turning Data Analytics and Insight into Action |
| | Meeting Patients Where They Are: The Race to Re-Engineer How Care is Delivered |
| | Concurrent Session |
| | Value-Based Partnerships Transitioning the Payment and Care Delivery Landscape |
| | Public Exchange Realities: Why One Size Does NOT Fit All (and Why It Matters) |
| | Concurrent Session |
| | Expansion of Federal Programs in the Evolving Health Care Marketplace |
| | The Payer's Journey to Achieving Operational Excellence |
| | Concurrent Session |
| | Technologies and Business Solutions Driving Operational Efficiency |
| 5:30 pm-7:00 pm | Institute & Expo Opening Night Reception Exhibit Hall |
| | |
| June 16 | |
| | |
| 6:45 am- 5:15 pm | Registration and Information Desk Open Lobby |
| 7:30 am-8:15 am | Consumer Engagement and Outcomes-Based Payments: How Stakeholder Collaboration Can Help |
| | Sponsored Breakfast Session |
| | Creating Exceptional Experiences: Putting the Customer at the Center of Service |
| | Powered by Payspan, Inc. |
| | The Evolution of Provider Data Management – Moving Beyond Compliance to Enterprise Value |
| | Sponsored Breakfast Session |
| | Business Intelligence: Turning Data Analytics and Insight into Action |
| | Powered by LexisNexis® |
| | Bundled Payments: Evaluating the Opportunities for Your Business |
| | Sponsored Breakfast Session |
| | Value-Based Partnerships Transitioning the Payment and Care Delivery Landscape |
| | Powered by Truven Health Analytics |
| | Leveraging Customer Experience Technology to Become a Trusted Brand |
| | Sponsored Breakfast Session |
| | |
| | Powered by Zipari, Inc. |
| | Using Digital Technologies to Drive Member (or Consumer) Engagement: Are you prepared to compete? |
| | Sponsored Breakfast Session |
| | Health Care in the Digital Age: Mobile, Big Data, Telehealth & Social Media |
| | Powered by Cognizant Technology Solutions |
| | Business Transformation: Creating a Competitive Advantage in the Market |
| | Sponsored Breakfast Session |
| | Technologies and Business Solutions Driving Operational Efficiency |
| | Powered by PA Consulting Group |
| 8:30 am-9:30 am | General Session |
| | The Health Insurer of the Future: How Disruptive Innovators are Reimagining Health Care |
| 9:30 am-10:30 am | Coffee Break Exhibit Hall |
| 10:30 am-11:45 am | The Disruptors: Consumerization of Health Care |
| | Signature Series |
| | Leading in the New Health Care Economy: Industry Innovation, Disruption and Transformation |
| | Measuring Success: Which Consumer-Focused Initiative is the Right One? |
| | Signature Series |
| | Creating Exceptional Experiences: Putting the Customer at the Center of Service |
| | From Volume to Value: New Frontiers in Payer/Provider Collaboration |
| | Signature Series |
| | Value-Based Partnerships Transitioning the Payment and Care Delivery Landscape |
| | RAPS to EDS Transition Collaboration: Data-Driven Results |
| | Signature Series |
| | Business Intelligence: Turning Data Analytics and Insight into Action |
| | Powered by Inovalon |
| | The New Rules of Patient Engagement: Innovations and Strategies for Effectively Managing 100% of a Population |
| | Signature Series |
| | |
| | Powered by Health Dialog Services Corporation |
| 11:45 am-1:15 pm | Lunch in the Exhibit Hall |
| 1:15 pm-2:00 pm | Helping Consumers Navigate Health Care: How to Win the Hearts and Minds of the New Consumer |
| | Concurrent Session |
| | Creating Exceptional Experiences: Putting the Customer at the Center of Service |
| | Scaling Alternative Payment Models: Expanding Global Budget Contracts to Include PPO Members |
| | Concurrent Session |
| | Value-Based Partnerships Transitioning the Payment and Care Delivery Landscape |
| | The Biopharmaceutical Dilemma? |
| | Concurrent Session |
| | Leading in the New Health Care Economy: Industry Innovation, Disruption and Transformation |
| | Personalization: The Must-Have Capability for Population Health Managers |
| | Concurrent Session |
| | Business Intelligence: Turning Data Analytics and Insight into Action |
| | Reduce Improper Payments with End to End Risk Mitigation |
| | Concurrent Session |
| | Technologies and Business Solutions Driving Operational Efficiency |
| | Realizing the Promise of Digital Health Technology for Complex Patients |
| | Concurrent Session |
| | Health Care in the Digital Age: Mobile, Big Data, Telehealth & Social Media |
| 2:15 pm-3:00 pm | How to Set Your Customer Experience Strategy — Credibility, Competency and Culture |
| | Concurrent Session |
| | Creating Exceptional Experiences: Putting the Customer at the Center of Service |
| | Behavioral Economics: Nudge the Unengaged and Why We Eat Chocolate Cake |
| | Concurrent Session |
| | |
| | Integrating the Local Care Coordination and the Delivery System in Your Care Programs to Derive Greater Value |
| | Concurrent Session |
| | Expansion of Federal Programs in the Evolving Health Care Marketplace |
| | Powered by Optum |
| | Concurrent Session |
| | Business Intelligence: Turning Data Analytics and Insight into Action |
| | Powered by Quest Diagnostics |
| | Market Update: New Research Insights on Reimbursement Models |
| | Concurrent Session |
| | Value-Based Partnerships Transitioning the Payment and Care Delivery Landscape |
| | Powered by McKesson Health Solutions |
| | Five Trends to Put People First in the Age of Digital Health |
| | Concurrent Session |
| | Health Care in the Digital Age: Mobile, Big Data, Telehealth & Social MediaPowered by Accenture |
| | Are you Paying a Data Integration "Tax"? |
| | Concurrent Session |
| | Technologies and Business Solutions Driving Operational Efficiency |
| 3:00 pm-3:45 pm | Wellness Break Exhibit Hall |
| 3:45 pm-4:45 pm | General Session |
| | Balancing Innovation and Affordability of High Cost Drugs: A New Path Forward |
| 5:00 pm-5:45 pm | General Session |
| | Corporate America's Role in Reducing Chronic Illness and Delivering Better Health |
| 5:45 pm- 7:00 pm | Wine & Cheese Reception Exhibit Hall |
| | |
| June 17 | |
| | |
| 6:45 am-12:30 pm | Registration and Information Desk Open Lobby |
| 7:30 am-8:15 am | Health Care Disruption for Care Delivery — Examining the Advantages of Telehealth |
| | Sponsored Breakfast Sessions |
| | Leading in the New Health Care Economy: Industry Innovation, Disruption and Transformation |
| 7:30 am-8:15 am | Collaborating for the Consumer |
| | Sponsored Breakfast Session |
| | Creating Exceptional Experiences: Putting the Customer at the Center of Service |
| | Powered by InterSystems |
| | Analytics for Health Plan & Provider Interventions in the Risk Adjusted Environment |
| | Sponsored Breakfast Session |
| | Business Intelligence: Turning Data Analytics and Insight into Action |
| | Market-Driven Approaches to Managing the Rise in Drug Prices |
| | Sponsored Breakfast Session |
| | Value-Based Partnerships Transitioning the Payment and Care Delivery Landscape |
| | Powered by CVS Health |
| 8:30 am-9:15 am | Meeting the Needs of Complex Patients through Collaborative Models |
| | Concurrent Session |
| | Expansion of Federal Programs in the Evolving Health Care Marketplace |
| | Patient-Centeredness, Comparative Effectiveness and Value: Realizing the Full Value of CER |
| | Concurrent Session |
| | Value-Based Partnerships Transitioning the Payment and Care Delivery Landscape |
| | Population Health Management: The Value of Palliative and Hospice Care Services |
| | Concurrent Session |
| | |
| | Powered by VITAS Healthcare |
| | Member Engagement Strategies in the Digital Age |
| | Concurrent Session |
| | Health Care in the Digital Age: Mobile, Big Data, Telehealth & Social Media |
| | Powered by Teleperformance |
| 9:30 am-10:15 am | Leveraging Consumer Tools and New Data Sources to Transform Health |
| | Concurrent Session |
| | Leading in the New Health Care Economy: Industry Innovation, Disruption and Transformation |
| 10:30 am-11:30 pm | General Session |
| | Election 2016 and What it Means for the Future of Health Care |
| 11:30 am-12:30 pm | Closing General Session |
| 12:30 pm-12:30 | pm Adjourn |
| | |
More events