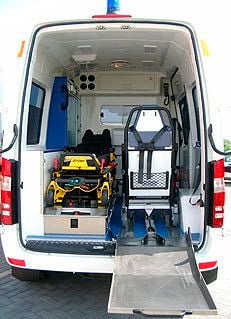 Transport medical ambulance / van Mercedes Benz Sprinter C. Miesen
Mercedes Benz Sprinter
Frontal view: We developed the Mercedes Benz Sprinter as patient transport ambulance (PTA) in accordance with DIN EN 1789. The modular C.MIESEN interior provides a wide range of possible ambulance conversions. We can flexibly adapt a conversion to your individual needs. The following pictures represent one MB Sprinter conversion of many possibe variations. Side and tail view: The vehicle was painted in a red and yellow stripe design, as requested by the customer. The windows of the patient's compartment have been darkened by a tinted foil, preventing a view inside.
Configuration:van
Applications:transport
---