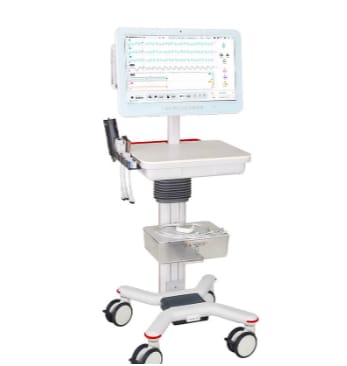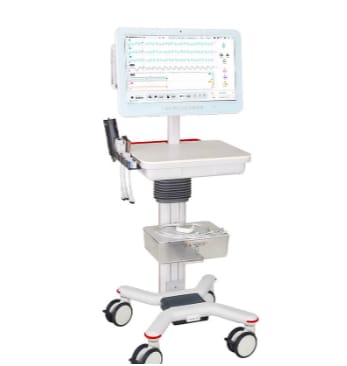 Task Force® Touch CARDIO for non-invasive continuous hemodynamic measurement
Take Fainting to Heart
Hemodynamic measurement just got easier
Task Force® Touch CARDIO* provides a set of synchronized patient signals derived from the unique non-invasive CNAP® finger sensor, combined with wireless 12-channel ECG. It is patient-friendly, easy to use and supports you in your busy daily clinical routine when it matters most.
CREATING INNOVATIVE SOLUTIONS
Task Force® Touch CARDIO* is tailored to your needs and supports your daily workflow.
SETTING NEW STANDARDS IN HEMODYNAMIC ASSESSMENT
Task Force® Touch CARDIO* provides all relevant hemodynamic parameters non-invasively, continuously and completely synchronized for an early detection of rapid and short-term changes in hemodynamics and autonomic assessment.
MOST POPULAR APPLICATIONS
Fully synchronized data enhancing your diagnosis and research.
Autonomic Function Testing & Syncope Assessment
Task Force® Touch CARDIO* assists physicians and nurses in cardiology, physiology, neurology, geriatrics and "Care of the Elderly".
Reliable data supporting you in:
Autonomic disorders: Autonomic Function Tests & Cardiovascular tests
Syncope & falls: Tilt test & Schellong test to identify unexplained loss of consciousness (e.g. vasovagal syncope, orthostatic hypotension, POTS, TLOC…)
Patient anamnesis: Active Standing, Resting ECG, Supine & standing blood pressure
Continuous and high-quality measurement allows for enhanced and individualized diagnosis to avoid patient readmission.
Research
Task Force® Touch CARDIO* provides an easy tool for the continuous non-invasive assessment of hemodynamics and Autonomic Function.
We support you in your research in the fields of:
Cardiology
Neurology
General Physiology
Psychophysiology / Mental Health
Sports / Health Science
Pharmacology
providing:
Full hemodynamics from only one sensor
Simple and quick setup
Clinically proven and validated technology
Reproducible results
Wireless data export
Easy I/O interface (max 4 input and max 8 output channels)
Features
The Task Force® Touch CARDIO* combines a smart design with state-of-the-art technology as a unique platform:
All-in-one workstation

CNAP® technology for finger blood pressure and advanced hemodynamics

12-channel wireless ECG

Electrode contact indication via snap-LEDs

Pacemaker detection

Secure/safe wireless data transmission with 10-second buffer
24`` TOUCH Screen with intuitive user interface

Reproducible results using application protocols

Automated report generation

Wireless data export for integration in your clinical and research environment

Smart cable management & accessory storage

Stylish design cart, lightweight & easy to move, height-adjustable
Parameters
The Task Force® CARDIO* software delivers synchronized patient signals:
Finger blood pressure: CNAP® waveform, SYS, DIA, MAP, Pulserate, Inter-Beat-Interval (available for post processing)

Upper arm NBP: SYS, DIA, MAP

Advanced hemodynamics (CNAP® HD): SV, SI, CO, CI, SVR, SVRI

12-channel wireless ECG
Technology
Most popular finger blood pressure method for non-invasive continuous hemodynamics.
More than 1,000 peer reviewed publications prove that the CNAP® technology is the most popular way to measure continuous non-invasive finger blood pressure and hemodynamics in research and clinical routine.
More than 5,500 customers worldwide and leading global partners trust in our over 20 years of experience in noninvasive hemodynamic monitoring.
For the 12-channel wireless ECG we rely on the well established technology from our partner Corscience GmbH & Co. KG from Germany.
More products from this supplier
---