CNAP® OEM partner solutions
The CNAP® technology is easily integrated into your product using our CNAP® OEM Partner Solutions.
Discover our CNAP® OEM partner solutions
FULL SET OF NON-INVASIVE CONTINUOUS PATIENT SIGNALS
Based on an easy-to-use dual finger sensor, the patented
CNAP®technology
provides:
CNAP® blood pressure (waveform, Sys, Dia MAP, PR)

Advanced hemodynamics: Cardiac Output (CO/CI), Stroke Volume (SV/SI), Systemic Vascular Resistance (SVR/SVRI)

Dynamic fluid management parameters: Pulse Pressure Variation (PPV), Stroke Volume Variation (SVV)
Simply utilize the most popular way to measure continuous non-invasive blood pressure, cardiac output, pulse pressure variation and many more advanced hemodynamic parameters using patented CNAP® technology.
CNAP® OEM Module
The CNAP
®
OEM Module integrates into your product, is fully customizable and tailored to your specific requirements.
Task Force® CORE
The Task Force
®
CORE platform is a ready to market solution including innovative design & regulatory approvals*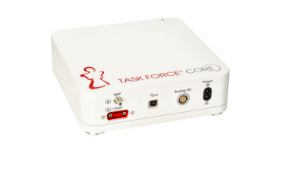 CNAP® OEM Module
The CNAP® OEM Module fully integrates into your host device with an extensive protocol, power supply and NBP calibration are provided by the host. This customizable solution comes with a Developer Implementation Kit and CNSystems integration and regulatory support.
Full integration into host monitor

Serial interface (RS422)

Developer Kit to support implementation

Featuring CNAP® technology

NBP calibration from host

Power supply (<5W) from host

Partner becomes legal manufacturer

Regulatory support & technical documentation
Task Force® CORE
Our Task Force® CORE platform allows for efficient digital integration into your host software using a USB driver and simplifies protocol or easily interfaces with up to eight isolated analog channels.
Easy digital integration

Optional analog interfacing

Featuring CNAP® technology and NBP

Fully synchronized set of parameters (BP, CO, SV, SVR,...)

CNSystems is legal manufacturer providing certificates such as CE / FDA
CNSystems provides the following services to support a successful integration:
Full Quality Management System: design, development, manufacturing, distribution, servicing, installation

ISO 13485:2016, MDSAP Audit Model Edition 2 (AUS, BRA, CND, JPN, USA), MDD and MDR compliant

Assistance with worldwide regulatory approvals: risk management (MDR, ISO 14971), usability engineering (including summative testing for US / FDA) IEC 62366-1 cybersecurity engineering

Product development including hardware and electronics development according IEC 60601-1 and IEC 60601-1-2, firmware and GUI development according IEC 62304

Clinical and scientific validation, clinical investigations and studies according to ISO 14155 and clinical evaluation according to MDR
More products from this supplier
---