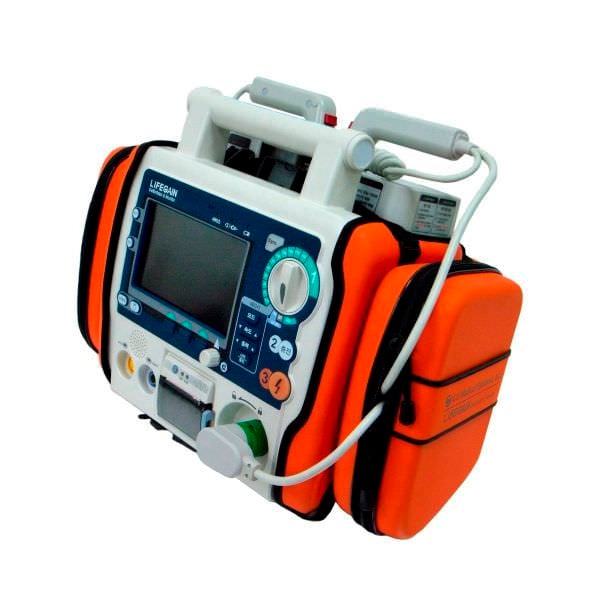 Semi-automatic external defibrillator / with ECG monitor 200 J - LIFEGAIN CU-HD1 CU Medical Systems
200 J - LIFEGAIN CU-HD1
This is the company's high end defibrillator/monitor intended for hospital use. It has defibrillation capabilities in AED and manual modes and may use disposable electrode pads and external and internal paddles for shock delivery. It has a transcutaneous pacer for temporary pacing of patients with low heart rate. It has an SPO2 module for the monitoring of oxygen saturation in the patient's blood and a 12-lead ECG monitor for the evaluation and monitoring of the patient's ECG. It has a memory card port for the storage of acquired signals and an integrated printer for the generation of hard copies of the patient's physiological signals. These features make this defibrillator suitable for use inside a hospital. This product is a defibrillator designed for qualified emergency staff and medical professionals to deliver defibrillating shocks to victims of sudden cardiac arrest and restore the normal ECG rhythm. AED Mode AED Mode is delivered to patients who are exhibiting the symptoms of Sudden Cardiac Arrest (SCA) including ventricular fibrillation, ventricular tachycardia, in order to bring them back to life by delivering electric shock and restoring the normal ECG rhythm. In the AED mode, defibrillation pads must be used. These defibrillation pads work to obtain the ECG signal of patients and deliver electric shock according to the patients' condition. Manual Mode Manual Mode is divided into two functions such as asynchronous defibrillation and synchronous cardioversion. In asynchronous defibrillation, the usage target is the same in AED Mode.
a:2:{i:0;a:2:{s:4:"name";s:10:"Operation:";s:3:"val";s:14:"semi-automatic";}i:1;a:2:{s:4:"name";s:11:"Connection:";s:3:"val";s:16:"with ECG monitor";}}
× × × × × × × × × ×
Cheonggye Plaza 5th Floor 221 Anyangpangyo-ro,
× × × × × × ×
---