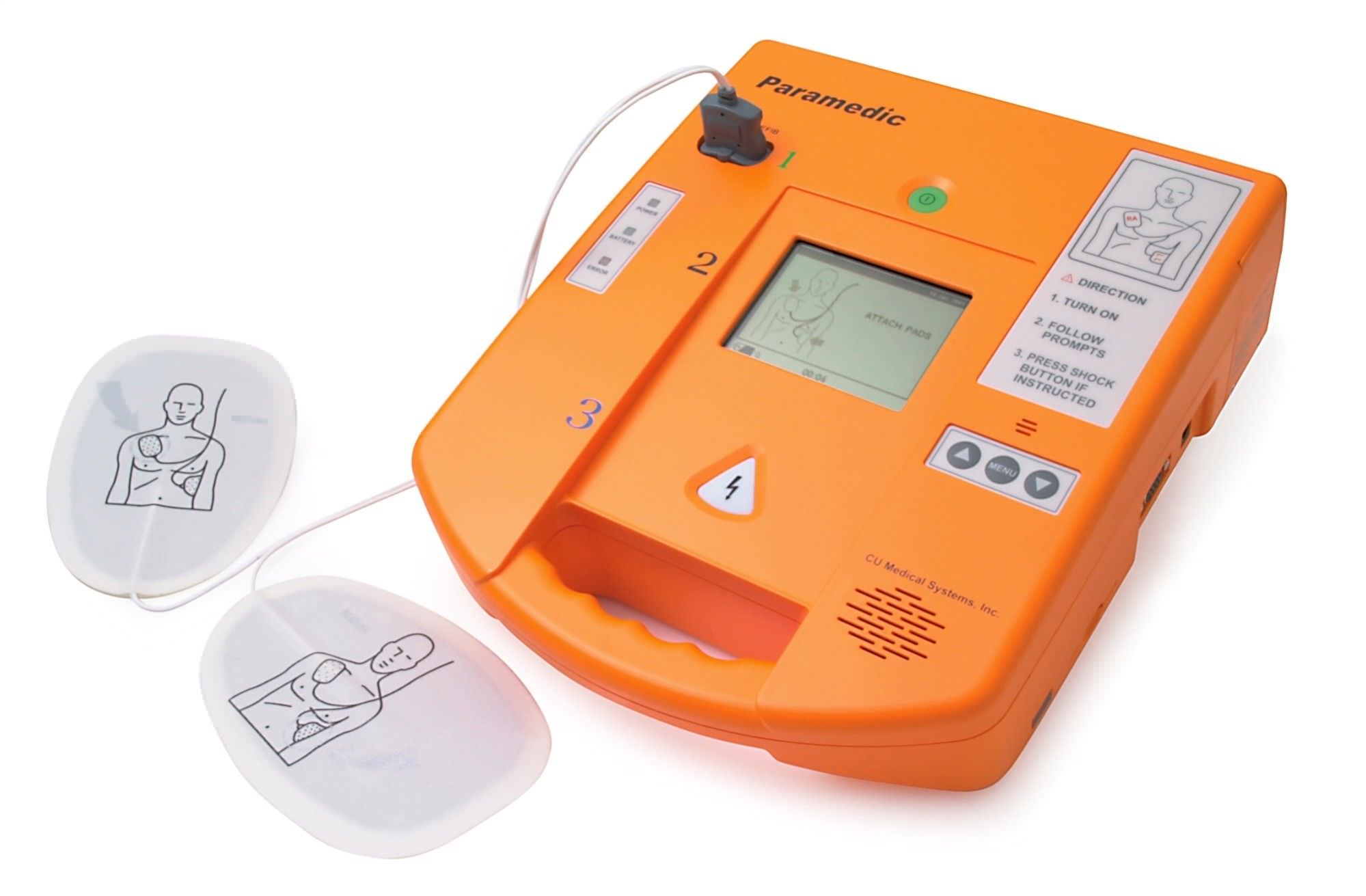 Semi-automatic external defibrillator / with ECG monitor 150 J - PARAMEDIC CU-ER1 CU Medical Systems
150 J - PARAMEDIC CU-ER1
This is an easy to use defibrillator with a graphic liquid crystal display. It runs in AED mode and acquires ECG signals and delivers the shock through disposable electrode pads. It is intended for use by emergency first responders such as firemen and paramedics. Simple and Easy to use The Paramedic CU-ER1 is a semi-automated external defibrillator (AED). If connected to a patient, it automatically acquires and analyzes the electrocardiogram (ECG) of the patient for the presence of Ventricular Fibrillation or Ventricular Tachycardia (also known as shockable rhythms). If a shockable rhythm is detected, the Paramedic CU-ER1 automatically charges itself and then prompts you to press the SHOCK button. When you press the SHOCK button after being prompted to press it, the Paramedic CU-ER1 delivers a defibrillating shock. After delivering a shock, the Paramedic CU-ER1 allows you to administer CPR (cardiopulmonary resuscitation) according to the AHA 2005 Guidelines on CPR. The Paramedic CU-ER1 is easy to use. It guides you throughout a rescue operation using voice and text prompts. The SHOCK button that commences a shock delivery is clearly marked and is fitted with a backlight that flashes when the button has to be pressed. ECG monitoring (3 Lead ECG cable) The Paramedic CU-ER1 may also be used for ECG monitoring only. To enter this mode, the ECG Monitoring Cable and Connector Assembly must be connected to it. In this mode, the Paramedic CU-ER1 only monitors the ECG and does not deliver a shock.
a:2:{i:0;a:2:{s:4:"name";s:11:"Connection:";s:3:"val";s:16:"with ECG monitor";}i:1;a:2:{s:4:"name";s:10:"Operation:";s:3:"val";s:14:"semi-automatic";}}
× × × × × × × × × ×
Cheonggye Plaza 5th Floor 221 Anyangpangyo-ro,
× × × × × × ×
---