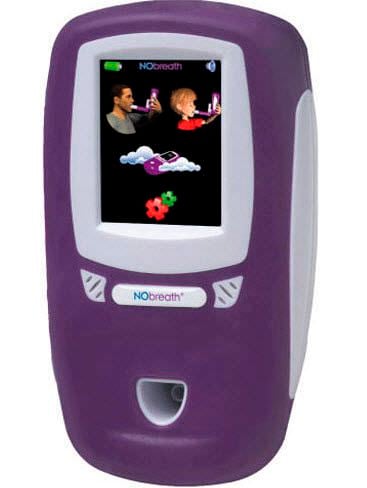 Nitrogen monoxide monitor exhaled 5 - 300 ppb | NObreath® Bedfont Scientific
5 - 300 ppb | NObreath®
Nobreath ENO Tester (5-300 ppb) can be utilized as a marker for breath passage inflammation and on going monitoring of treatment. Airway Inflammation Monitoring Measuring ENO with NObreath ENO Tester permit consistent, non invasive measurement of expired breath nitric oxide . Adults and children can be effortlessly tested, correctly assessed and promptly prescribed the correct treatment regime thus saving time and further reducing costs. The hand held device enables respiratory specialists, doctors and asthma specialists to largely comply with ATS and ERS guidelines3 when testing ENO levels in patients. The relation between elevated levels of ENO and breath passage inflammation, such as in COPD sufferers, is well established.2 The NObreath ENO Monitor adds economical ENO monitoring that is available to many healthcare professionals. ENO is a non invasive, valid marker of breath passage inflammation, making analysis and monitoring safe, quick and easy.
a:1:{i:0;a:2:{s:4:"name";s:8:"Options:";s:3:"val";s:7:"exhaled";}}
× × × × × × × × × × ×
Station Road Harrietsham,
× × × × × × ×
---