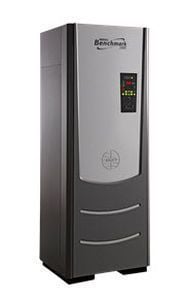 Hot water boiler / gas-fired / for healthcare facilities Benchmark 750 & 1000 AERCO International
Benchmark 750 & 1000
AERCO is expanding its Benchmark series of high-efficiency boilers to include the BMK 750 & 1000. The expanded BMK SERIES (BMK 750 & 1000) delivers the highest burner turndown in the industry to achieve the highest seasonal efficiencies. The BMK 750 &1000 comes standard with AERCOs Patent Pending, Oxygen Level (O2) monitoring system. This monitoring system, designed to display the O2 level directly on the unit in real time, can also be remotely monitored via MODbus giving the customer the ability to monitor the boiler performance in the areas of emissions and fuel economy without traditional combustion calibration devices.
a:3:{i:0;a:2:{s:4:"name";s:5:"Type:";s:3:"val";s:9:"hot water";}i:1;a:2:{s:4:"name";s:16:"Type of heating:";s:3:"val";s:9:"gas-fired";}i:2;a:2:{s:4:"name";s:22:"Medical establishment:";s:3:"val";s:25:"for healthcare facilities";}}
---