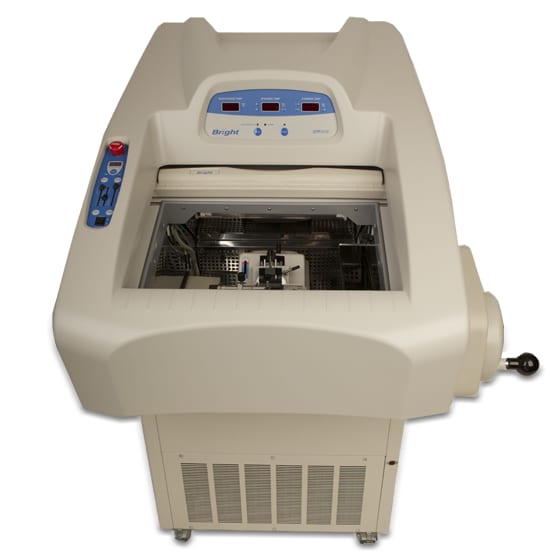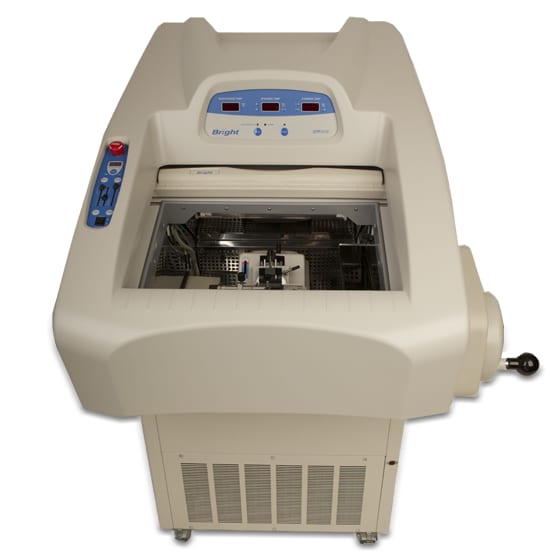 Rotary Microtome Cryostat OTF 5000
OTF 5000
Based on the long-established and reliable OTF/AS cryostat, the new OTF5000 brings the extensive range of Bright cryostats completely up to date.
New styling coupled with improved user ergonomics, the latest blade systems in the ever-reliable and powerful 5040 microtome, a huge choice of options plus money-saving package deals make these cryostats absolutely unique.
They are suitable for an endless range of applications and, in the correct configuration, are capable of cutting a wide diversity of specimens from undecalcified bone to brain, resins, plastics and plant tissue, as well as more usual soft tissue.
Allowing full anti-roll plate adjustment for perfect results coupled with long lasting temperature stability, the OTF5000 can truly be described as complete.
Special features
New contoured top for added operator comfort and usability
Suitable for research and clinical operation
2 money-saving special packages available
Uses solid knives or disposable blades including new lever release
Feather blade holder
Available in 2 different working heights
Automatic evaporator defrost supplied as standard
Non-urgent functions on side panel
Long list of options and accessories
Contains tried and tested 5040 rotary microtome

OTF5000 - Base Model
Cryochamber Polished Stainless steel construction
Quick Freezer 9 position, running at 10° below chamber temperature (ultra low temperature -80°c version can be factory fitted at extra cost)
Minimum Chamber Temperature Single compressor -35°c
Compressor Type 1 x 15cc displacement, 2 x 15cc displacement (for /EC or /LT options
Refrigerant Ozone friendly HFC refrigerants
Cooling Power 150 watt at -35°c, 300 watt at -40°c (for /EC or /LT options)
Lowest Set Temperature Ambient to -35°c with automatic defrost. Lower temperature options are available to -40°c (/EC0 and ambient to -45°c (/LT)
Shelves 3 Internal, 1 External
Chamber Temperature Control Microprocessor with LED display
Evaporator Defrost Automatic with analogue clock
Cutting System Manual with balanced handwheel
Microtome 5040 rotary microtome with beryllium hinges
Section Range 0.5 to 30um in 0.5um increments
Maximum Head Advance 5.6mm
Maximum Knife Block Adjustment 44mm (coarse control)
Knife Angle Adustment 25°
Window Surrounds Heated
Window Demist System Fan driven, automatic
Surface Finishes Easy clean, scratch and solvent resistant, flame retardant
Defrost Clock Analogue with battery back-up
Non Urgent Controls Side Mounted
Normal Working Height 990mm
Dimensions With Hand Wheel : H130 x D90 x W81cms - Without Hand Wheel : H130 x D90 x W73cms


OTF5000 - Low Spec Model
As base model but with:
Object Orientation Fine with +/-8° oin horizontal and vertical axes, 360° rotation
Motorised Advance/Rewind 2 Speed, 116um/s and 164um/s with auto reset
Specimen Temperature Control Fast reacting from -5°c to minimum chamber temperature microprocessor controlled with LED display
Dimensions With Hand Wheel : H130 x D90 x W81cms - Without Hand Wheel : H130 x D90 x W73cms

OTF5000 - High Spec Model
As low spec model but with:
Section Counter 6 digit LCD display
Dual Refrigeration Twin compressors automatically switched with fail-safe feature, -40°c chamber temperature (LT system availableto go to-45°c) NOTE : Ultra low temperature -80°c quick freezer cannot be fitted to HS models
Motor Drive Features cutting window to accommodate differences in specimen size, infinitely variable speed control in cutting window, slow speed version available for cutting hard materials, footswitch operation available
Dimensions With Hand Wheel : H130 x D90 x W89cms - Without Hand Wheel : H130 x D90 x W80cms
× × × × × × × × × × × × × × × × × × × × × × × × × × × × × ×
Sovereign Park, Laporte Way, Units 1-3
× × × × × × × × ×
---