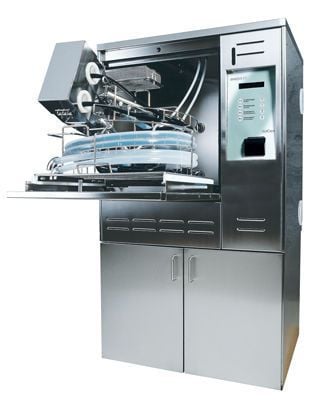 Endoscope washer-disinfector INNOVA E3, INNOVA E3-CMS SciCan Medical
INNOVA E3, INNOVA E3-CMS
The INNOVA E3 is intended for use in GI departments in the hospital. Its insert can process two flexible and immersible endoscopes at the same time. It is integrated with a printer and has a cycle time of 36 minutes. Like the E2, the E3 makes use of 5 liter chemical containers which are placed in the base found beneath the machine. Its features include single-use chemistry, two-scope capacity, and dependable water quality. It comes with a leak tester. Furthermore, it is easy to load without the need for complicated endoscope connectors. Print-outs are delivered after each cycle. It also has an excellent drying system. An optional multifunction design allows the machine to be utilized as a thermal disinfector for instruments. An insert coding that ensures the selected cycle is correct is also optional.
a:1:{i:0;a:2:{s:4:"name";s:12:"Application:";s:3:"val";s:9:"endoscope";}}
× × × × × × × × × ×
× × × × × × ×
---