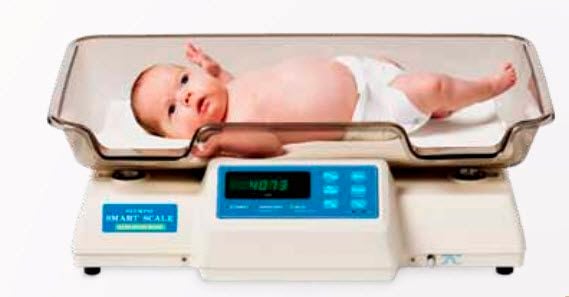 Electronic baby scale 15 kg | Smart Scale® Model 60 Natus Medical Incorporated
15 kg | Smart Scale® Model 60
Olympic Smart Scale Model 60 is a neonatal precision scale which is developed to weigh active newborns and growing babies up to 15,000 grams (33 lbs). Rapidity, precision and safety are its main features. The device is available as a table-top or with a roll-around cart. The device includes automatic weight averaging that weighs active babies. Other than that, the averaging indicators contain status lights and averaging signal tone with volume control. Reweighing babies can also be done by the device while they are on the scale. Memory recall system of the device displays the last weight even after the scale has been turned off. Reading off the scale is in grams only. To lift babies in and out easily and safely, there is a four-sided easy-lift tray. Measuring tapes are used to measure the length of the baby. It operates on 120V~ and has batteries which are rechargeable.
a:1:{i:0;a:2:{s:4:"name";s:11:"Technology:";s:3:"val";s:10:"electronic";}}
---