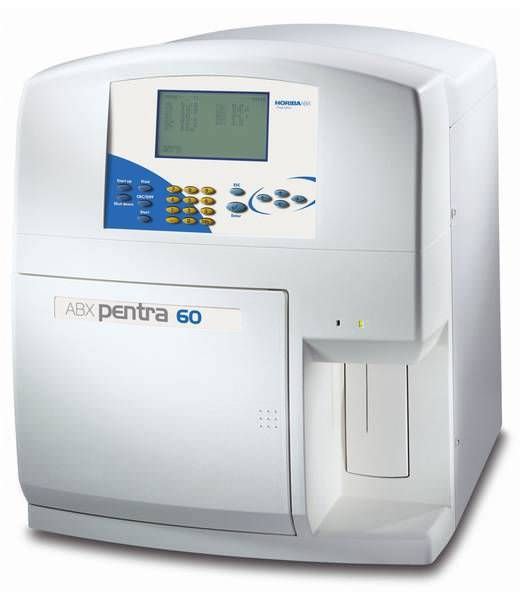 Automatic hematology analyzer / leukocyte distribution / 26-parameter / compact 60 tests/h | ABX Pentra 60 HORIBA Medical
60 tests/h | ABX Pentra 60
ABX Pentra 60 has a small size and available at low cost. It is capable of doing micro-sampling from entire blood which includes CBC-30 µL and DIFF-53 µL. By the help of Double Hydrodynamic Sequential System technology, the instrument is perfectly differentiating five WBC sub-populations. The impedance, cytochemistry and optical functions can also be performed by the help of in-built Double Hydrodynamic Sequential System technology in the device .With Multi-Distribution Sampling System technology; the product provides complete homogenization of blood samples with reagents. The device contains one diluent and four onboard reagents. The device has a throughput of up to 60 samples per hour. Also, three histograms for BAS/WBC, RBC and PLT are provided by the device along with 5 DIFF Matrix. By special channels the counting of basophils is done. The determination of two additional subpopulations which includes a typical lymphocytes and big immature cells is done by the product through high resolution matrix.
a:3:{i:0;a:2:{s:4:"name";s:10:"Operation:";s:3:"val";s:9:"automatic";}i:1;a:2:{s:4:"name";s:12:"Performance:";s:3:"val";s:36:"26-parameter, leukocyte distribution";}i:2;a:2:{s:4:"name";s:14:"Configuration:";s:3:"val";s:7:"compact";}}
---