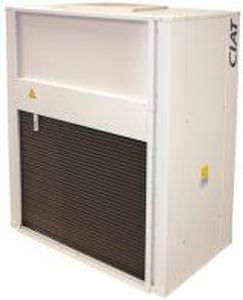 Air-cooled water chiller / for healthcare facilities 18 - 194 kW | CIATCOOLER LP, LPC CIAT
18 - 194 kW | CIATCOOLER LP, LPC
Being an air cooled chiller of medium capacity, the product is used for heating and cooling in collective housing complexes. Its main beneficiaries include healthcare units, industrial and tertiary buildings and collective housing facilities. Emitters like the air handling units, comfort units and underfloor cooling and heating systems have the device connected to it. In order to connect the air ducts of the condenser, the device has a with a vast array of available pressure. It is accurately structured for indoor installation. Being an R-410A refrigerant, the unit is space efficient and compact. The housing in which the equipment is enclosed is made of coated metal panels and could even be removed for indoor installation. Besides one refrigerant circuit, it has one or two efficient scroll compressors. The heat exchanger is in form of a brazed plate and can be cooled by water. The pressure is generated by the centrifugal fans range from 5 to 350 Pa. It has two directions facilitating air-flow, besides a CONNECT 2 microprocessor-based controller which is user-convenient. The RS-485 interface aids communication with BMS.
Medical establishment:for healthcare facilities
Technology:air-cooled
---