iHospital Telehealth & MobileSolutions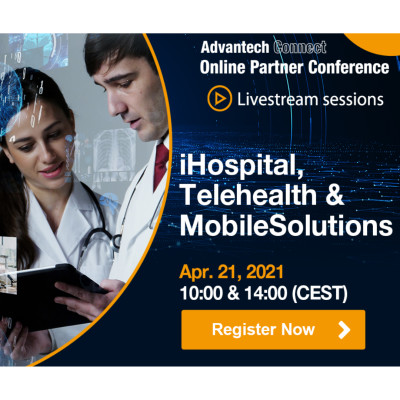 Exhibit
Symposia
Workshops
Organiser
Sponsor
Get Ready for Intelligent Hospital Solutions
Discover Advantech's latest iHospital solutions aimed at intelligent ward services, quality nursing care, integrated operating rooms, and green hospitals. Advantech helps hospitals upgrade their infrastructure in order to provide intelligent patient-centered healthcare.
Stay Ahead of Digital Healthcare Trends
iHospital solutions are the latest trend in the field of healthcare. In this Advantech Connect online partner conference, we will focus on exploring solutions for patient engagement, surgical interoperability, and hospital management applications.
Connect with Industry Leaders and Grow Your Business
Virtually connected with partners in the healthcare sector, C-suite executives and technical leaders from all over the world will discuss the latest AIoT technologies. Join us to network with like-minded professionals and participate in shaping the future of healthcare.
Programme Available Online here
Registration Available Online here
More events