EANM'16 - 29th Annual Congress of the European Association of Nuclear Medicine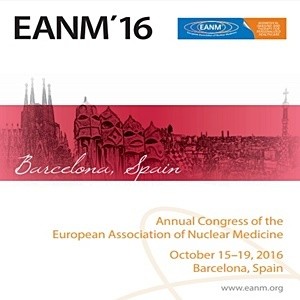 Exhibit
Symposia
Workshops
Organiser
Sponsor
Dates & Deadlines
April 25, 2016: Deadline for submission of abstracts
June 13, 2016: Notification of acceptance of abstracts
June 20, 2016: Deadline early registration fee
October 10, 2016: Deadline advanced registration fee (after October 10 on-site registration fee)
October 15, 2016: Opening ceremony and welcome reception
October 19, 2016: Closing ceremony and farewell cocktail
Abstract Submission
The submission of abstract is now closed. Thank you very much for your numerous submissions. The EANM is proud to have received a total of 2.201 abstracts, which is the second highest number of submissions after the 25th anniversary of the Annual congress of the EANM, which took place in Milan in 2012.
The submitted abstracts will now be reviewed anonymously by a dedicated Jury.
EANM is launching late-breaking abstracts for presentation at EANM'16 in Barcelona.
For the first time EANM will offer a late-breaking parallel session ("Presidential Session") during its Annual Congress. Authors are invited to submit their very latest, cutting-edge data for review. Online submission will open on July 1, 2016 and will close on August 14 at midnight CET.
Please note that only the very best abstracts will be considered for this single timeslot. We are very much looking forward to receive your latest findings and hope to see you soon in Barcelona on the occassion of the 29th Annual EANM Congress.
Registration Fees in €
(no VAT applicable)
Early registration
until June 20, 2016
Advanced registration
until October 10, 2016
On-site registration
after October 10, 2016
EANM Member3)
250,–
390,–
460,–
Non-Member
500,–
655,–
725,–
EANM Junior Member1) 3)
110,–
210,–
280,–
Junior Non-Member1)
220,–
310,–
310,–
EANM Nurse/Technologist Member3)
80,–
160,–
230,–
Nurse/Technologist Non-Member2)
200,–
255,–
325,–
EANM Associate Member3)
250,–
390,–
460,–
Associate Non-Member
500,–
655,–
725,–
Student4)
0,–
0,–
0,–
Accompanying Person5)
95,–
95,–
95,–
Pre-Congress Symposium 1 6)
100,-
100,-
100,-
Pre-Congress Symposium 2 6)
50,-
50,-
50,-
Pre-Congress Symposium 3 6)
50,-
50,-
50,-
Pre-Congress Symposium 4 6)
50,-
50,-
50,-
Pre-Congress Symposium 5 6)
50,-
50,-
50,-
Pre-Congress Symposium 6 6)
50,-
50,-
50,-
Pre-Congress Symposium 7 6)
50,-
50,-
50,-
Pre-Congress Symposium 8 6)
100,-
100,-
100,-
More events