2017 Yale Caribbean Point of Care Ultrasound Course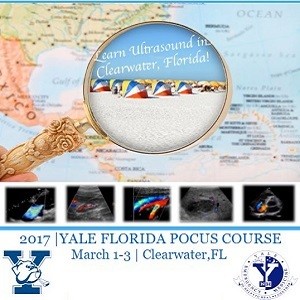 Exhibit
Symposia
Workshops
Organiser
Sponsor
Brought to you by the organizers and faculty of the popular New England Emergency and Critical Care Ultrasound Course, this course emphasizes a hands-on approach to teaching the key points in using bedside ultrasound while basking in the Caribbean sun! Using our very successful two-track format to prioritize a low student:faculty ratio, we offer a large amount of hands-on time with hired models. We start with basic technique, gradually building to more advanced integrative clinical scenarios. By the end of the course, you will be proficient with the ultrasound skills needed to start using it right away!
Basic Course:
12 lectures and 10 hands-on sessions. This track will expose you to the core US applications in the ED. Topics include: Physics and Orientation, Aorta and IVC, Musculoskeletal/Soft Tissue, DVT and Vascular Access, Biliary, extended FAST, and ECHO.
Advanced Course:
12 lectures/9 hands-on sessions. Presumes that you have some scanning/interpretation experience (basic ECHO and FAST) and builds on those skills.
Course Directors:
Chris Moore, MD RDMS RDCS

Rachel Liu, MD
Richard A Taylor, MD
Invited Faculty Lecturers:
Good Samaritan Hospital Medical Center, Chairman, Emergency Medicine, Chris Raio MD RDMS
University of Connecticut School of Medicine: US Director, Meghan Herbst MD
SUNY Downstate Medical Center: US Director, Mike Secko MD
Florida Hospital East Orlando: US Director, Alfredo Tirado- Gonzalez MD
Early Registration:
$1,350.00 for faculty/physicians
$950.00 for residents and mid-levels
Refund Policy
In order to receive a full refund, you must cancel your registration prior to February 6th, 2017 by 5:00pm refund deadline.

Any cancellations after February 6th, 2017 will receive a refund less $300.00 cancellation fee, transfer to the next following course without penalty or keep a credit with us for a future course without penalty valid one year.
Registrants canceling within two weeks of the course are not eligible to receive any refunds. Registrants have the option to transfer to the next following course only.
Requesting a Refund
You can request a refund by email, phone or fax

Email
[email protected]
Fax
203-785-4580
Phone
203-785-4058


Topics Include:
Basic Doppler, Appendix, Scrotal, Advanced Echo, Ocular, Nerve blocks and a new lecture on Resuscitation US which will cover materials like diastology, carotid doppler/VTI, and the utility of IVC in fluid resuscitation.
More events