WCACS 2017 - 8th World Congress of the Abdominal Compartment Society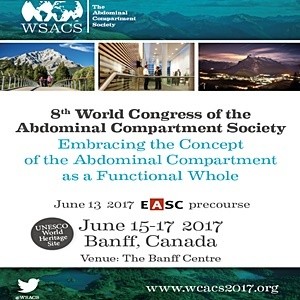 Exhibit
Symposia
Workshops
Organiser
Sponsor
WCACS 2017 Embracing the Concept of the Abdominal Compartment as a Functional Whole
The 8th World Congress of the Abdominal Compartment Society in Banff in 2017 follows on the previous successful meetings in Ghent, Cartagena, Colombia, Orlando, USA and Dublin, Ireland, Antwept, Belgium, and Noosa, Australia.
The WSACS was formed in Australia after the second World Congress in 2004 and was primarily a multidisciplinary society of clinicians involved in day-to-day care of seriously ill and injured patients. Although originally a small the Society has been incredibly productive in writing and knowledge translation with the generation of a textbook and Internationally accepted Consensus Guidelines concerning the Definitions, Management, and Research Methodology, which undergo continuous re-evaluation and reassessment with new knowledge. As such the Society has recently updated its practice guidelines on ACS is fostering a greater understanding worldwide of intra-abdominal hypertension and ACS.
Call for abstracts
Instructions for submitting abstracts
We invite prospective participants to submit abstracts in a Word document.
Abstracts are welcomed as they are an essential element of all WCACS meetings. We welcome abstracts on clinical and experimental research related to the abdominal compartment. Only accepted abstracts which are presented during the Congress will be published in the congress proceedings.
Important Dates
Submission closes: 1st March 2017
Notification of acceptance of abstracts: 15th March 2017
Physicians
Registration Fee
Early Bird: 5% discount
Before March 1st, 2017
Standard Rate
Before May 15th, 2017
On Site Rate
3 Days
WSACS member
€ 465,00 € 441,75
€ 465,00
€ 565,00
3 Days
Resident WSACS member
€ 395,00 € 375,25
€ 395,00
€ 495,00
3 Days
Member endorsing society or resident
€ 485,00 € 460,75
€ 485,00
€ 585,00
3 Days
Non-member or other
€ 495,00 € 470,25
€ 495,00
€ 595,00
1 Day*
All participants
€ 295,00
€ 295,00
€ 295,00
* Only 1 1-day registration per person allowed.
Nurses, respiratory therapists, physician assistants, nurse practitioners, pharmacists, medical students
Registration Fee
Early Bird: 5% discount
Before March 1st, 2017
Standard Rate
Before May 15th, 2017
On Site Rate
3 Days
WSACS member
€ 295,00 € 280,25
€ 295,00
€ 395,00
3 Days
Member endorsing society
€ 385,00 € 365,75
€ 385,00
€ 485,00
3 Days
Non-member or other
€ 450,00 € 427,50
€ 450,00
€ 550,00
1 Day*
All participants
€ 195,00
€ 195,00
€ 195,00




Industry
Registration Fee

Standard Rate
On Site Rate
3 Days
Industry and other. WSACS member
€ 375,00*
€ 475,00**
3 Days
Industry and other. Non-WSACS member
€ 450,00*
€ 550,00**
* VAT 21% excluded


Other registration options
Rate
Onsite
3 Days
Spouse/accompanying person
€ 195,00
€ 225,00
June 14
Hotel Superior Bedroom Pre conference
The Banff Centre
€ 170,00
-
June 15
Hotel Superior Bedroom
The Banff Centre
€ 170,00
-
June 16
Hotel Superior Bedroom
The Banff Centre
€ 170,00
-
June 17
Hotel Superior Bedroom
The Banff Centre
€ 170,00
-
June 16
Gala Conference dinner
The Banff Centre
€ 95,00
-
Day 1; Thursday June 15




Kennear Centre Room: KC 103 / KC 105 Room 2

1:30 PM

Opening Ceremonies and Welcome to WCACS2017

1:35 PM

Singing of O-Canada - National Anthem

1:40 PM

Introduction to Banff Centre/History of Banff/Southern Alberta/Geography and UNESCO details

1:50 PM

Introduction to the Abdominal Compartment Society

2:00 PM

Introduction to the World Society of Emergency Surgery

2:10 PM

Introduction to the Group considering IAH in Pre-Eclampsia

2:20 PM

Introduction to the Basic Science of Inflammation within the Abdominal Compartment

2:30 PM

Introduction to DAMPS and PAMPS and why they matter in Critical Intra-abdominal Injury/Ilnness

2:40 PM

Introduction to the Fluid Society

2:50 PM

Introduction to the Abdominal Wall Reconstruction

3:00 PM

Mild to moderate intra-abdominal hypertension: Does it matter?

3:10 PM

Coffee break

The PROBLEMS - Epidemiology/Physiology of IAH/ACS in Critical Care

The PROBLEMS - Epidemiology of IAH/ACS in Acute General surgery/Obstetrics/and Abdominal Wall Reconstruction

4:00 PM

Epidemiology of IAH (incl different grades) and ACS

Epidemiology of IAH and the ACS in Acute General Surgery

4:10 PM

Critical Care Physician Awareness of IAH/ACS - Why do we still put our heads in the sand?

Epidemiology of IAH and the ACS in Elective Abdominal Wall Reconstruction

4:20 PM

Has Damage Control Resuscitation Made IAH Irelevant?

Epidemiology of IAH and the ACS in Obstetrics

4:30 PM

Awareness Nursing

Abdominal Wall Failure and the Impact on Human Health

4:40 PM

Recognizing the specific contributing impact of IAH in catastrophically ill and injured patients

Patching versus reconstructing - the relative physiologic implications of laparoscopic approaches versus open in "big" hernias

4:50 PM

Implications of IAH on feeding the criticaly ill

Implications of IAH on Soft tissue healing and complications for AWR

5:00 PM

Implications of IAH on weaning the criticaly ill

Implications of size and chronicity of ventral hernia on pre-operative risk stratification for AWR

5:10 PM

Implications of IAH on renal failure in the critically ill

Co-Morbidities prevaiing amoung those requiring AWR: When is "no" a hard-line?

5:20 PM

Question and Discussion

Question and Discussion

5:30 PM

Day 1 wrap it up and explanation of the Social Program

5:45 PM

Executive Meeting

6:45 PM

Welcome reception

8:30 PM

Speakers dinner




Day 2; Friday June 16




Room 1

Room 2

8:00 AM

Global Impacts of sepsis upon Human Health

Plenary

8:10 AM

Plenary Session title: Advances in the Basic Understanding of Infection/Inflammation within the Abdominal Compartment

8:20 AM

Advances in Modulating the Inflammatory Response within the Peritoneal Cavity: Pharmacologic

8:30 AM

Advances in Modulating the Inflammatory Response within the Peritoneal Cavity: Negative Pressure Therapy

8:40 AM

Advances in Modulating the Inflammatory Response within the Peritoneal Cavity: Extracorporeal Therapies

8:50 AM

Panel Discusion with audiece interaction - Future Advances in Modulating the Inflammatory Response in the Peritoneal Cavity - what will be needed?

9:00 AM

First Case

9:30 AM

Coffee break

Basics - Measuring IAP

Track B

10:00 AM

Is bladder presure still the best standard?

"Normal" IAP in humans

10:10 AM

How do we avoid Recumbancy in measuring IAP

How do you decide normal IAP in the Obese

10:20 AM

Are there new technologies to measure IAP in the ICU

How do you decide normal IAP in children?

10:30 AM

Are there new technologies to measure IAP outside the ICU on the ward

How do you decide normal IAP in Pregant Woman?

10:40 AM

Panel Discussion

Panel Discussion

10:50 AM

Coffee break

Overt and Occult Abdominal Compartment Syndromes

Inflammation and the Peritoneal Cavity: A unique Anatmoic

Space for inflammation

11:10 AM

Overt Abdominal Compartment Syndrome

Inflammation and the Peritoneal Cavity: A unique Anatomic Space for Inflammation

11:20 AM

Occult Abdominal Compartment Syndrome

Swelling, Inflammation and the Peritoneal Cavity: Fluids and Peritonitis

11:30 AM

When Intra-Abdominal Hypertension Matter

Systemic Mediators and a local problem: Interactions between systemic inflammation and the abdominal compartment

11:40 AM

When Intra-abdominal Hypertension Doesn't Matter

How surgical research generates basic science advances in inflammation

11:50 AM

Panel Discussion

Panel Discussion

12:00 PM

Lunch break

Track A

Track B

1:00 PM

Case 1

plenary

1:30 PM

Free papers

Free papers

Prevention of Abnormal IAP in the ICU

Damage Control surgery and the OA

3:10 PM

Prevention of IAH in the ICU

The Basic History of Damage Control Surgery

3:20 PM

Prevention of ACS in the ICU

The Fundamentals of Damage Control Surgery

3:30 PM

Resuscitation changes make IAH irrelevant?

When can you close the abdomen after Damage Control Surgery?

3:40 PM

Prevention of IAH before the ICU

Indications for use of damage control surgery in the current era of improved resuscitation practices: are prospective studies required to re-evaluate the procedure?

3:50 PM

Coffee break

Case Presentation

Case Presentation

4:10 PM

Typical ICU ACS Case

Abdominal wall Reconstruction and Permissive Intra-Abdominal Hypertension

4:40 PM

Discussion

Discussion

Medical Treatment of ACS

Closure of the Open Abdomen

5:00 PM

Pharmacologic management of IAP

Historical Approaches that saved many lives

5:10 PM

Positioning to manage IAP

Comprehensive Approaches to the Problem

5:20 PM

Percutaneous drainage to manage IAP

Vacuum therapy

5:30 PM

Diuresis and renal replacement therapy to manage IAP

Mesh Mediated Traction

5:40 PM

Day 2 wrap it up

Mechanical Systems

6:30 PM

WSACS general assembly

7:30 PM

Dinner




Day 3; Saturday June 17




Room 1

Room 2

Surgical Treatment of IAH/ACS

Nursing Issues in IAH/ACS

8:00 AM

Decompresive Laparotomy

Recognition

8:20 AM

Minimally Invasive Fasciotmies for IAH/ACS

Prevention

8:40 AM

Laparoscopic Approaches to decompress for IAH/ACS

Ari Leppaniemi Interventions

9:00 AM

Discussion

Discussion

Acute Intestinal Distress Syndrome

Abdominal Wall Reconstruction

9:05 AM

Introduction to the Concept of "AIDS"

What do you mean by "loss of domain"

9:15 AM

Gut Mucosal injury from IAH

Predicting those at risk of severe IAH/ACS in the setting of AWR and futility

9:25 AM

Blood-bourne versus lymphatic mediated systemic manifestations of gut ischemia

Intra-operative physiology of massive AWR: The surgeons perspective

9:35 AM

Disconnecting the Gut from the Systemic Inflammatory Response

Intra-operative physiology of massive AWR: The intensivists perspective

9:45 AM

Discussion

Discussion

10:00 AM

Coffee break

10:30 AM

Free papers

Pregnancy and IAH/ACS

Practical Dilemas in Abdominal Wall Reconstruction

11:35 AM

IAP and it's potential role in diseases of pregnancy

Overview of advanced surgical techniques to avoid IAH/ACS in AWR

11:45 AM

The Microbiome and diseases of pregnancy

Overview of adjunctive techniques to avoid IAH/ACS in AWR

11:55 AM

Maternal positioning and it's potential role in intra-abdominal pressure

When is it safe and in whom to extubatre after AWR

12:05 PM

Discussion

Discussion

12:20 PM

Lunch break

The future needs and goals in studying IAH/ACS

1:00 PM

Prevention

plenary

1:10 PM

Futility

plenary

1:20 PM

Economics

plenary

1:30 PM

Relevance of Our Society

plenary

1:40 PM

Longevity of Our Society

plenary

1:50 PM

The Next Meeting

New President

plenary
More events