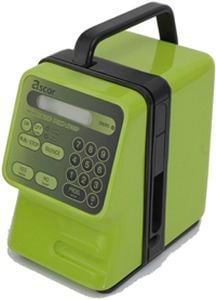 Volumetric infusion pump / 1 channel 1 - 1000 ml/h | AP31P Ascor
1 - 1000 ml/h | AP31P
The AP31P volumetric infusion pump is safe, simple, and reliable. It is designed for the demands of modern IV therapy in the CCU, ICU, surgery, oncology, cardiology, and anesthesia. It is very simple to handle, contains a wide array of infusion rates, and its infusion parameters can easily be modified. It is equipped with an extensive alarm system, both visual and audible. It is free-flow blocking and has a long battery life. There are three operation modes to choose from.
a:2:{i:0;a:2:{s:4:"name";s:19:"Number of channels:";s:3:"val";s:9:"1 channel";}i:1;a:2:{s:4:"name";s:5:"Type:";s:3:"val";s:10:"volumetric";}}
---