*Not yet available in all markets
The Most Comprehensive Critical Care Analyzer
One analyzer, up to 20 tests
No other blood gas analyzer can match the clinical value of pHOx Ultra, which provides up to 20 critical care tests from one small, 210-microliter sample in only 2 minutes. Other partial test panels are available in less than one minute. Measured tests include: pH PCO2 PO2 SO2% Na K iCa iMg Cl Glucose BUN/Urea Creatinine Lactate Hct Hb O2Hb HHb COHb MetHb tBil
Customized Menus
pHOx Ultra can be custom configured with as few as 5 tests to as many as 20 tests to satisfy the exact test menu requirements of each department. However the complete test menu does not have to be run on each sample. Up to 30 specific user-defined subsets (panels) can be created for patient populations such as pulmonary, surgical, pediatric, or emergency care.
Easy-to-Use, Color Touchscreen
pHOx Ultra incorporates an intuitive, high-resolution color touchscreen. This new user interface is fast and easy to use with graphic icons and visual prompting through its simple three-step operation:
Select tests
Identify the sample
Aspirate the sample

New High-Resolution Color Display
Phox Ultra incorporates a large, high-resolution color display. The large format, bright colors, and high resolution provide exceptional viewing, and easy-to-read graphics and data.
Comprehensive On-board Data Management System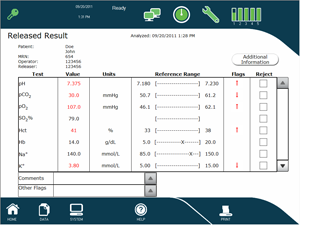 A standard feature on all Stat Profile pHOx Ultra analyzers is a complete on-board Data Management System, allowing data capture and extensive reporting capabilities including:
Storage and retrieval of patient results, patient demographics, QC, and authorized users
Data retrieval by name, ID, date, location, or operator
Patient, QC, utilization, and operator reports
Analyzer Networking At No Extra Cost
Multiple pHOx Ultra analyzers can be networked together into a single, common database. A supervisor or authorized operator can access all patient results, QC results and reports from all analyzers. Competitors often offer this capability only as an expensive accessory, adding 30% – 40% to the cost of the analyzer.
Remote Set-up and Control
pHOx Ultra offers comprehensive, time-saving remote set-up, control, and review of multiple pHOx Ultra analyzers. From any point on the LAN, a manager can perform the following functions on a remote analyzer:
Review reagent cartridge and QC cartridge status
Review instrument calibration status
Initiate a calibration cycle
Review QC status
Initiate a QC cycle
Enable or disable an analyte
Enable or disable operator access
Edit normal ranges, critical ranges, QC ranges, QC frequency, operators, test menu, instrument defaults
Connectivity
pHOx Ultra analyzers are compliant with industry standard POCT1-A2 and ASTM communication protocols for connectivity. These industry standards are used to easily interface pHOx Ultra analyzers to a wide range of connectivity systems including LIS, HIS, and middleware systems.
Automated, True QC
An automated, true QC system eliminates all user steps involved in performing multi-level, true liquid QC, dramatically reducing labor while maintaining the most stringent QC.
Measured SO2%, Hb, and Hct on Each Sample Without CO-Oximetry
A unique technology feature of pHOx Ultra analyzers is the ability to measure hemoglobin, hematocrit, and oxygen saturation on each sample. Advanced biosensors, optics, and algorithms enable measurement of these parameters without the added cost, hardware, and sample volume of a CO-Oximeter.
Optional On-Board CO-Oximeter
When a complete profile of hemoglobin fractions is needed as part of the analyzer test menu, pHOx Ultra offers an on-board CO-Oximeter with advanced features:
Complete CO-Oximetry test panel including O2Hb, HHB, COHb, MetHb, tBil
Automatic calibration
Automatic cleaning of the optical components
Ionized Magnesium
pHOx Ultra provides ionized magnesium as part of its electrolyte panel. Ionized magnesium is a very important electrolyte for cardiac health. This electrolyte works with potassium and calcium to maintain strong and rhythmic cardiac contraction. It is the most common electrolyte abnormality among post operative intensive care patients.
Exceptional Reliability
Stat Profile pHOx Ultra hardware and software designs are based on the extraordinary reliability of previous generation pHOx analyzers that have been proven in thousands of installations during the last decade.
Multiple Department Applications
The customizable whole blood test menu, fast analysis time, and low operating cost make pHOx Ultra ideal for multiple testing locations:
OR, ICU: Provides the most comprehensive menu for managing high acuity ICU and OR patients
Emergency Department: Reduces waiting times for essential laboratory tests, improving patient triage and satisfaction
Stat Lab: Supports the stat testing workload of multiple departments
Mobile Testing: pHOx Ultra on a mobile cart with battery backup enables it to be moved to any hospital location for stat testing as needed
Low Cost Critical Care Testing
pHOx Ultra combines long life sensors plus low cost reagent cartridges to provide the most cost effective way for a hospital to offer critical care blood gas testing. pHOx Ultra provides a 20-test critical care profile at a cost equivalent to testing performed in the central laboratory. Other point-of-care devices that use single-test or 30-day sensor cartridges can be 5-to-10 times more costly.
The pHOx Ultra comprehensive on-board Data Management System eliminates the high cost of purchasing a separate data manager. The Data Management System enables networking of multiple pHOx Ultra analyzers, reducing connectivity and record keeping costs.
---