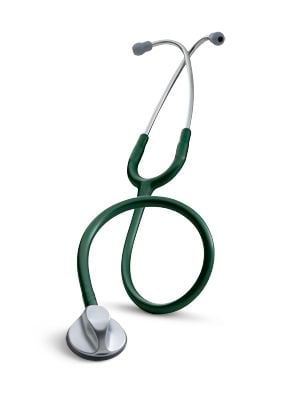 Single-head stethoscope Master Classic II™ series 3M Littmann Stethoscopes
Master Classic II™ series
The 3M™ Littmann® Master Classic II™ Stethoscope is a perfect blend of outstanding comfort for superior sound transmission and the ergonomic design which is award-winning. This design facilitates comfort in operation of the equipment. A tunable diaphragm is attached to the adjustment of sound frequency which runs on pressure. The headset of the system is structured anatomically. The patent 3M™ Littmann® Snap accounts for soft-sealed, tight eartips. By pressurizing the chestpiece lightly or firmly, sounds of high and low frequency become audible. This becomes possible by the convenient functioning of the tunable technology embedded in the diaphragm. The Littmann® Master Classic II could be availed by educators as a teaching stethoscope. It has the same qualities, its tube being 40 inches in length. The student and educator simultaneously hear the same sound, owing to the two headsets of the device.
a:1:{i:0;a:2:{s:4:"name";s:5:"Type:";s:3:"val";s:11:"single-head";}}
× × × × × × × × ×
3M Corporate Headquarters 3M Center,
× × × × × × ×
---