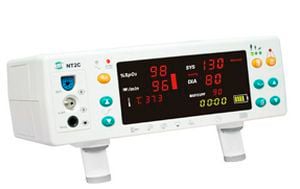 NIBP patient monitor / SpO2 0 - 100 %SpO2 | NT2C Newtech
0 - 100 %SpO2 | NT2C
The NT2C is a vital signs monitor. It features a bright, easy-to-read large LED display. This compact machine benefits from a long-life internal rechargeable battery which enables uninterrupted monitoring. The durable machine is suitable for use with adults, pediatrics and neonates. The lightweight vital signs monitor has a 72-hour data memory capacity, allowing an on-screen viewing of SpO2 and pulse rate trends. It audio/visual three level arms with an alarm volume control.
a:1:{i:0;a:2:{s:4:"name";s:20:"Measured parameters:";s:3:"val";s:10:"NIBP, SpO2";}}
× × × × × × × × × × × ×
B195, Okhla Industrial Area Phase 1,
× × × × × × ×
---